Visit BCN /
10 non-Christmassy things to do this festive season in Barcelona
10 non-Christmassy things to do this festive season in Barcelona
You can enjoy the festive season without nativity scenes and Christmas carols
If you're not a fan of Christmas or if you only get into the Christmas spirit for a couple of days, Barcelona has lots of fun, sporting, culinary and cultural experiences for you to enjoy where there isn't a single Christmas carol, spruce tree or nativity scene in sight. They're perfect if you want to escape Christmas markets, shopping, dinners and celebrations for a while. If you're looking for non-Christmassy things to do this Christmas, make a note of the following. They're all guaranteed tinsel free!
Travel back in time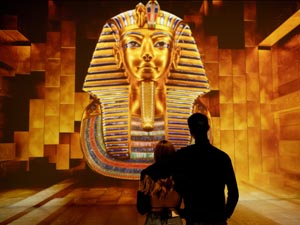 You can travel back to Ancient Egypt with the Tutankhamun: Immersive Experience exhibition at Ideal Barcelona: a 1,500m2 space in the Poblenou neighbourhood, where technology and science come together to create immersive audiovisual content. The experience, led by Pharaoh Ben, takes visitors of all ages on a journey that provides an insight into a magical civilisation full of riddles and treasures. All you have to do is put on your VR glasses and you'll be walking among pyramids and will even be able to explore the legendary pharaoh's tomb.
Don't stint on the food!
Awaken your inner chef with a fun cookery workshop that also explores every corner of the Boqueria Market. If it's your turn to cook at home for Christmas, or at any other time, this is the perfect excuse to learn new recipes and tricks of the trade. The Boqueria is bursting with so many wonderful, colourful ingredients, and if you go on one of its fun and informative cookery courses you'll learn how to cook with the expert guidance of a professional chef. There are two options: a Spanish cookery class or Catalan wine and tapas. The workshops include a tasting, food and wine pairing and a folder with all the recipes to take home with you.
Elementary, my dear Watson
Apparently, Sherlock Holmes never actually said these words, but why let the truth get in the way of good story? You can repeat it as many times as you like if you sign up to one of the guided tours of the Biblioteca Rossend Arús, the library founded in 1895 that specialises in contemporary social movements. It contains a special section about the working-class movement, anarchism and freemasonry. But it also has an extensive Sherlock Holmes collection, consisting of more than 12,000 items from books, comics and Manga magazines to posters, newspaper cuttings, tabletop games, coins and films. On this fascinating guided tour you'll discover the famous detective's adventures and learn about the history of Catalonia during the 19th and early 20th centuries through its social movements.
On foot

If you're travelling solo, with a group or the family during the Christmas holidays, booking a guided tour is a great idea if you want to get to know Barcelona a little better. With its hidden, narrow streets, the Gothic Quarter has welcomed different cultures over the centuries and has so many secrets and spine-tingling tales to tell. Any time is a good time to put on your comfy shoes and explore the city's oldest neighbourhood in the company of an experienced guide who will take you on a journey back in time from Roman to medieval Barcelona.
On two wheels

If street art's your thing and you love exploring cities by bike, then you're in luck! There are two activities you can enjoy at the same time if you sign up to the Barcelona Street Art Walking and Bike Tour. There are three options to choose from: a guided bamboo bike tour of the best examples of street art in the old town, Ciutat Vella (2 hours), Poblenou (3 hours) and Poblenou and Ciutat Vella (5 hours). If you're interested in seeing the city's urban art, but you don't want to do it on two wheels, you can go on a walking tour of the Raval neighbourhood, which is one of the best areas for street art.
Right by the sea
You'll find lots of nautical, cultural and sporting activities not far from the Christmassy atmosphere of the city centre. Are paddle surfing, sailing on the sea or visiting museums your thing? Do you love visiting churches or are you a thrill-seeker who likes swimming among sharks? You don't have to limit yourself to just one of these. With the Barcelona Card Sea you can enjoy 14 free nautical and cultural activities and 14 activities featuring discounts over seven consecutive days.
From high up

If you still haven't visited the Glòries Tower observation deck, the Christmas holidays are the perfect time to see the city from high up with its streets, glittering lights and festive vibes below. The Glòries Tower observation deck is at the top of one of Barcelona's most iconic 21st-century buildings designed by Jean Nouvel, and will show you the city through fresh eyes. The visit begins in the Hyperview exhibition space, which reads and amplifies the heartbeat of the city with art, technology and science, and ends with the spectacular views from the observation deck, 125 metres above the city. You can choose between standard admission and a ticket that includes the Cloud Cities Barcelona experience, where you can explore Tomás Saraceno's art installation, Cloud Cities.
A treat for the ears

Come and fall under the spell of the Spanish guitar at the 14th Spanish Guitar Concert Season, where you'll be able to see some of its finest performers at one of Barcelona's unique venues: the Reial Cercle Artístic de Barcelona. You'll be able to hear pieces by leading composers, including Albéniz, Tárrega, Bizet, Falla and Rodrigo. Don't worry, it's guaranteed to be a carol-free zone!
Wine tourism close to home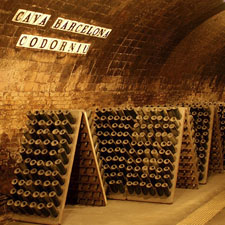 If you still haven't visited the Codorníu winery, you can't miss out on a first-class wine-tourism trip to Sant Sadurní d'Anoia. The winery was designed by the architect Josep Puig i Cadafalch, one of the leading exponents of Catalan art nouveau, modernisme, and was awarded Artistic and Historic Landmark status in 1976. During the tour, you'll visit the wine-making complex, the gardens, the museum and the main winery building, where you'll see the machinery, and explore the maze of underground cellars on a miniature train.
Thrilling adventures
A visit to the urban forest and adventure park, Barcelona Bosc Urbà, is always a great experience for thrill-seeking families and solo travellers. You'll find more than fifty attractions that will give you the opportunity to enjoy adventure sports without leaving the city. You can choose from bungee jumping, zip wires, nets, creepers, bridges and tree trunks on platforms up to 6 metres above the ground. There are three different circuits tailored to different age groups and difficulty levels: family circuit (for over 8s), sports circuit (for over 11s) and high-altitude jumping (over 5s).
You may be also interested