Visit BCN /
Christmas in Barcelona in 48 hours
Christmas in Barcelona in 48 hours
A two-and-a-half-day getaway to Barcelona will be enough for you to soak up the Christmas spirit in a city that celebrates the festive season with gusto. You can visit Christmas markets, nativity scenes, charming shops and so much more beneath the magical lights that glitter in the streets.
DAY 1: DISCOVERING THE EIXAMPLE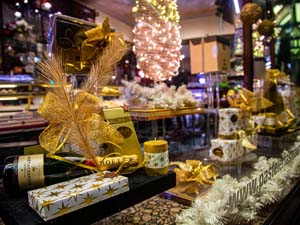 2pm
If you arrive in the city at lunchtime, there's nowhere better to stop off than the Eixample district, where you'll get a glimpse of the Christmas spirit that imbues the city, with decorated shops, streets bedecked with glittering lights and the unmistakeable magic of the festive season. Housed in an art nouveau, or
modernista
, building,
Windsor
serves Catalan cuisine with a contemporary twist and is a great place for lunch. Another option is
L'Olivé
, with its Mediterranean dishes and extensive wine list.
4pm
If you want to get into the Christmas spirit that's all around the city, visit the
Sagrada Família Christmas market
where you'll find skilled artisans selling decorative items and one-off pieces.
6pm
It's time for a snack. There's nothing more Christmassy than a nice cup of thick hot chocolate with churro fritters or sponge fingers, known as melindros, to boost your energy levels and carry on shopping. The Eixample is full of places where you can enjoy a wonderful snack. Pastisseries
Mauri
and
Boldú
, which has several outlets in the area, and
Escribà
, with its fairytale cakes, are great options if you want to take a sweet break.
6.30pm
If you're in the mood for shopping, the Eixample is the perfect place. Its streets and avenues are packed with shops to suit all tastes. You can lose yourself on Rambla de Catalunya, Carrer València and Passeig de Gràcia and be enticed by the range of goods on offer. You'll find your own distinctive Christmas style at
Antonio Miró
. If you're looking for original, comfortable shoes, make sure you grab a pair from
Camper
. The city is also the perfect place to find unique, signature jewellery that defies classification. Some of the leading jewellers include
Bagués-Masriera
,
RABAT
, and the iconic
Tous
and
Capdevila Joiers
.
If you're looking for quality designer bags, you'll find one to suit your taste at
Lupo
. And perfume connoisseurs will find every imaginable fragrance at
Regia
. Christmas is also about culture, so there could be no better way to round off a day's shopping than surrounding yourself with books. You'll find a great selection in different languages, as well as in Catalan and Spanish, at
Ona Llibres
.
9pm
To end the day with a great dinner featuring tapas and dishes made with fresh market produce,
Mordisco
will cater to your gastronomic needs. If you have a sweet tooth, make sure you try the cheesecake which is to die for!
DAY 2: THE OLD TOWN, CIUTAT VELLA, MAGICAL AND VIBRANT
10am
You can't visit Barcelona at Christmas without stopping off in Plaça de Sant Jaume to see the iconic nativity scene. But it isn't the only one in the city. This year we will be celebrating the 19th Catalan Nativity Scene Biennale at the
royal chapel of Santa Àgata
, which brings together a wonderful array of dioramas made by nativity scene craftsmen and women from all over Catalonia, as well as international associations.
As you're in the area, the
cathedral cloister
and the
Museu Frederic Marès
also have their own nativity scenes that take us back to different eras every year. To make your morning complete, the Christmas market, the
Fira de Santa Llúcia
, in front of the cathedral, is a wonderful display of magic and good vibes, with stalls selling trees, the curious pooping figure, the caganer, and all kinds of Christmas decorations. You're bound to find that special item to take home with you!
2pm
After a busy morning exploring the Gothic Quarter, why not linger and have an alfresco lunch by the sea? If you have time, you can even head to the beach and have a coffee on the sand. There are so many top-quality restaurants to choose from. The
7 Portes
is a classic. Founded almost 200 years ago, it is renowned for its delicious rice dishes. If a stylish terrace serving seafood dishes with views of the port is your thing,
1881 per Sagardi
at the Museu d'Història de Catalunya is the perfect place to dine on sunny winter days. If you want to try some of the finest rice and seafood dishes, make a note of
Can Solé
.
4pm
We're still in the old town, Ciutat Vella, where there is no end of things to explore among its cobbled streets with their shimmering Christmas lights. Why not spend the afternoon visiting some of its most iconic shops? Turrón nougats are the number one festive sweet treat and you'll find one to suit your taste at
La Campana
or
Vicens
. If you're looking for books or design objects, you'll find them at the
Llibreria La Central
. For urban, sophisticated clothes from a variety of labels, make sure you visit
Ozz Barcelona
. At
Calpa
you'll find all kinds of bags and backpacks and at
Empremtes de Catalunya
you can browse a wide variety of handcrafted items and see the city's creative side for yourself.
La Manual Alpargatera
sells the most comfortable and chic handmade footwear and, if you're still wanting more retail therapy, you can end the day at
El Corte Inglés
, the big department store where you'll find everything you could possibly want.
If you're looking for typical Christmas items to decorate your home,
Käthe Wohlfahrt
has everything you need: Christmas figures, details for the tree or table, decorations, souvenirs and much more.
Caganer.com
has several shops in the neighbourhood and specialises in the curious pooping figures,
the caganer
, who you'll find in many different guises, from the Simpsons to Ernie and Bert from Sesame Street.
9pm
It's dinner time, so why not wander over to the Born beneath the Christmas lights and soak up the magical, festive atmosphere you'll always find in this neighbourhood at this special time of the year. There are lots of restaurants where you can enjoy a delicious dinner among designer boutiques and trendy bars.
Sagardi BCN Gòtic
is the perfect eatery for carnivores, while
El Passadís del Pep
is the go-to place for a seafood platter. The finest chargrilled meats and fish await you at
Calabrasa
.
DAY 3: CONCERTS, FAMILY AND CULTURE

10am
We start the day enjoying the wonderful atmosphere in Plaça Catalunya and Plaça Universitat, which host the Christmas festival, the
Festival de Nadal
, every year. Check out our what's on listings and plan ahead for your short break in the city. There are all kinds of activities to suit all tastes, with mornings dedicated to the kids and evenings of music and entertainment for all. If you want to explore more Christmas markets and get even more out of your trip, take a stroll along La Rambla, among the flower stalls and shops, until you come to the Christmas fair in the old harbour, the
Fira de Nadal del Port Vell
, which has a great choice of handcrafted items and accessories.
2pm
If you're travelling with kids, one of the restaurants in the
Poble Espanyol
is a great choice. It's packed with all kinds of Christmassy activities for the little ones. If that's not the case, a trip to one of the large retail districts is a great idea. You can choose from
Major de Sarrià
,
Gran de Sant Andreu
,
Via Júlia
or
Carrer de Sants
, where, in addition to the shops, you'll find all kinds of restaurants where you can enjoy the typical neighbourhood atmosphere and home cooking featuring dishes made with produce fresh from the market. You're bound to have time left to browse the shops, as they open for longer over the festive season, including Sundays and public holidays. They will be closed on 25th and 26th December as well as on 1st and 6th January.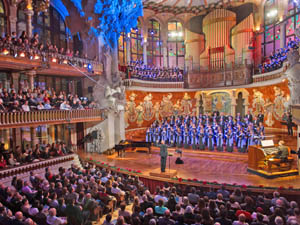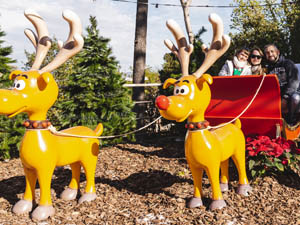 4pm
If you still have a little time to spare after lunch, make sure you check out the programme of Christmas concerts to bring your two days in the city to a perfect and melodic end.
Pedralbes Monastery
, the
Palau de la Música Catalana
,
L'Auditori
and churches, like
Santa Maria del Pi
, bring you a season of thrilling Christmas concerts. Check out what's on. We're sure you'll go back to your daily routine with your energy levels replenished and filled with the indescribable magic of Christmas in Barcelona.
You may be also interested