Visit BCN /
Give the gift of Barcelona
Give the gift of Barcelona
There could be no better time of year to buy presents than Christmas. And Barcelona provides the perfect setting. The city's streets, boulevards and squares are decked out in all their finery with decorations showcasing cutting-edge designs and the city has a special warmth and a unique Christmas spirit. All over the city, you'll find streets crammed with all kinds of shops that invite you to stroll and do some window shopping, from Passeig de Gràcia, Rambla de Catalunya and Portal de l'Àngel to Creucoberta or the lanes in neighbourhoods of Gràcia, the Gothic Quarter and the Born.
If you're looking for something more deeply rooted in tradition that epitomises the city, or want to put some of our tastiest delicacies on your Christmas table, here is a selection of shops that you're bound to come across as you explore the city. Shops that are truly unique, with their own distinctive, charming personality, and an offering that is synonymous with excellence and attentive, friendly service. And if unique experiences are more your thing, either for yourself or with someone special in mind, discover the most amazing ideas. You can't go wrong!
Unique experiences to treat yourself (or someone) to
Can you picture yourself enjoying the end of the year with a parachute jump? Or relaxing in a hammam housed in an 18th century former warehouse and replenishing your energy levels to face a new year full of challenges and opportunities? The city has unique and amazing things to do. Choose which one of these experiences you want to give someone this Christmas!
Käthe Wohlfahrt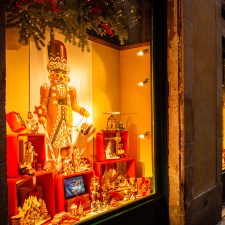 The magical world of Christmas in one shop
Step inside and immerse yourself in a magical world steeped in traditions. This is Barcelona's biggest Christmas shop, and looks like something out of a film, with cosy corners recreating Christmas scenes from around the world. It's an absolute must if you're looking for that special festive item for your home. You'll find everything from decorations for the tree to other gift ideas.
Give culture!

There's always room for more knowledge and this makes enjoying culture a pleasure. If you're looking for different, cultural gift ideas, the Articket makes it easy. An art passaport that gives you entry to exhibitions at the Museu Picasso, the CCCB, the MACBA, the Fundació Joan Miró, the Fundació Antoni Tàpies and Museu Nacional d'Art de Catalunya for a year, with savings on the ticket price and skip-the-line access. This Christmas it is launching a new, more colourful and arty cover, designed by the illustrator Miguel Pang. It depicts six characters associated with the six museums through some of their works. The Articket also includes a QR code featuring extra content about the illustrator and his work. Don't wait too long! It's a limited edition and will only be available until 8th January.
Other options are the city's museum shops. They are concept stores in the truest sense, where you'll find all kinds of objects inspired by art and design that reproduce works of art on stationery, ceramics, fashions and accessories. Take a piece of Barcelona art home with you!
Bookshops are also great places to find a memento of your time in the city: from books set in the streets of Barcelona to editions that showcase the city's treasures. You'll find them at the city's countless bookshops, some of them dating back more than 100 years. There are specialist ones, some have a café and others are housed in beautiful historic buildings: you'll be spoilt for choice.
More information about Bookshops and Museum's shops
Unique jewellery with its own personality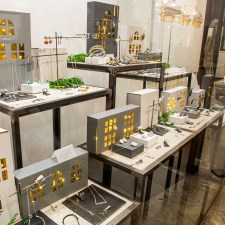 If you're looking for a family-run jewellers where you can find unique pieces of jewellery, Comaposada Joiers is the right place. Its collections are inspired by the country's museum collections and art and architecture, including cubism, its home-grown art nouveau, modernisme, and Romanesque and Gothic styles.
All the pieces at Tass Joies are designed and made on the premises completely by hand. You'll find versatile and contemporary jewellery in different finishes and materials. Unique pieces with their own distinctive personality that reflect the essence of the Mediterranean.
Espai Micra is a studio and shop that invites you to discover the creative process in an intimate, personal way. A selection of personalised, unique pieces and limited editions.
Lovers of tradition and cutting-edge design will find exclusive contemporary jewellery at Capdevila Joiers. A family-run firm that creates one-off, hand-crafted pieces.
More information about Unique jewelleries
Fashion and accessories for all tastes
More than any other store, Santa Eulàlia has helped make Passeig de Gràcia into Barcelona's boulevard of luxury fashion. Founded in 1843 as a bespoke tailors, it now brings you collections by today's top designers.
Antoni Miró's fashion collections are seen on catwalks around the world and his tailored suits and shirts are world renowned. At his flagship store, you'll find his latest designs made in Barcelona.
Hats are maybe only for the most daring of wearers, but once you don one of the hats from this emporium you won't want to take it off. Since 1917 it has been supplying Barcelona locals with fashionable, tailor-made and customised hats. It also has a charming workshop where you can see the hats being made by hand.
More information about Fashion and Accessories
A world of creativity and design
If you're crazy about design, Cubiñá is the place for you. It specialises in design, interiors and makes and distributes furniture. Cubiñá is housed in the matchless setting of an iconic Catalan art-nouveau building, Domènech i Montaner's Casa Thomas. A visit to the store is an unforgettable experience.
Lovers of hand-crafted items simply can't miss Empremtes de Catalunya, a tiny universe where Catalan culture is transformed into unique and irresistible objects and art pieces. You'll find all kinds of artisan pieces, all made in Catalonia with love and care, which reflect and convey the values, customs and art of our region.
Leather goods designed by Calpa and hand-made in small workshops. You'll find bags and wallets embossed with the design of Barcelona's typical modernista paving stone, a symbol of the Catalan capital, as well as Gaudí's paving stone, one of the architect's most iconic designs.
More information about Handicrafts
A foodie paradise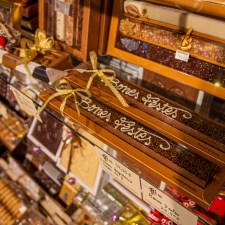 We always round off traditional Christmas meals with delicious nougat, or turrón: the sweet treat made from almonds, honey and eggs. It also comes in different varieties, including chocolate, coconut, toasted egg yolk… You'll find turrón at some of Barcelona's traditional confectioners and cake shops, including Mauri, La Campana, La Colmena or Torrons Vicens.
Queviures Múrria offer artisan cheeses, smoked fish and meat, cured meats and sausages, caviar, olive oils, coffees, preserves, wines and champagnes... This food emporium brings you all the essential ingredients for your Christmas table. Múrria opened in 1898 and its Catalan art-nouveau, or modernista, exterior and interior are truly photo-worthy. It has won numerous awards, including the Catalan government's National Prize for Centennial Shops.
Make sure you don't miss Barcelona's chocolate shops and confectioners. Chocolat Factory, Chocofiro and Escribà are waiting for you to make your memories even sweeter.
More information about Gourmet and Chocolate shops
Perfumes, a classic as special as a jewel
Subtle, elegant, original, exclusive… a perfume is always a sign of distinction. Each fragrance involves careful research and travel to exotic places dating back hundreds of years. In Barcelona, Regia, which was founded more than 75 years ago, is one of the city's time-honoured perfumeries. It is also home to the city's perfume museum, the Museu del Perfum, which showcases 5,000 pieces that trace the evolution of perfume from the Stone Age to the present day.
Hundreds of options under one roof
Sometimes the best source of inspiration to find the perfect gift is to browse hundreds of different options. You'll find everything you're looking for at the different branches of El Corte Inglés, the Spanish department store which was founded more than 80 years ago. They even have a deli section, the Club del Gourmet, where you'll find the finest foods. And if you love fashion, sport, cosmetics and homeware, heaven awaits just 40 km from Barcelona. La Roca Village brings together top labels from Spain and abroad in an open-air space where you'll also find a great choice of dining options to suit all tastes.
More information about Department Stores and Shopping Centers
Treat someone (or treat yourself) to a night in a hotel
They say that experiences are the most memorable gift. If you want to enjoy a romantic, glamorous evening, stay in the same rooms as Hollywood stars, or sleep like a king, take a look at Barcelona's iconic hotels and choose the one that captivates you.
You may be also interested