Visit BCN /
Barcelona, a paradise for celebrating Christmas!
Barcelona, a paradise for celebrating Christmas!
From 24th November until Epiphany on 6th January, the city plays host to a vibrant programme of events that will spread magic and culture to every district. The range of things to do is so varied that you won't have time to fit them all in! We're going to tell you about some of the essential ones to put in your Barcelona Christmas diary.
A switch-on steeped in history
Hold tight, because this year's Christmas lights will take you on a journey to the past: the discovery of fire, ancient Rome, medieval times and the arrival of electricity. Anys llum (Light Years), a production by La Brutal directed by David Selvas, will switch on the Christmas lights in the main square in the district of Nou Barris on 24th November. With live music, humour and theatre, and light as its centrepiece, the performance will cover different periods in history until the present day when we'll find out how we interact with light, particularly at such a special time of the year as Christmas.
Barcelona Christmas Festival
For a fortnight, from 17th to 30th December, Plaça de Catalunya and Plaça de la Universitat will be the focal points of the Barcelona Christmas Festival, which will feature an endless array of activities that will immerse adults and kids, the local community and visitors from everywhere in the Christmas spirit. The festival speaks a universal language – the language of art – and its programme of events, held in the morning, afternoon and evening, includes cultural and cosmopolitan activities and attractions for you to enjoy. Celebrate dance, theatre, music and creativity with this present to the city!
Culture until sunset in Plaça de Catalunya
Surrounded by its iconic buildings, Plaça de Catalunya will be transformed into a festive urban landscape designed by Juli Sanjuan Palma, Sylvia Kuchinow and Estudio Furia, which will include light, audiovisuals and architecture. It will also be staging an extensive programme of events from morning until night.
Mornings: all for the kids.
From 11am until 1pm, families will have a whale of a time with the installations and costume-making, wig-making and craft workshops. To round off the event, every day Guillem Albà and La Marabunta will invite us to lunch with their entertainment Quin desgavell… (Utter Chaos), featuring live music and clown performances, to celebrate Christmas in the craziest, merriest way.
Afternoons: the rhythm keeps going.
The festivities continue from 4.30pm until 6pm with DJ sets featuring the warmest grooves to keep out the winter chill and live music steeped in the magnetism of Balkan sounds. Get moving!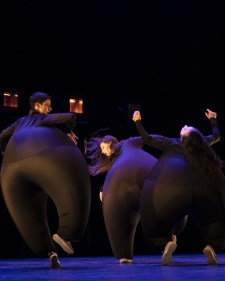 Evenings: art for all tastes.
From 6pm to 8pm, the street arts will fill the plaza with a combination of activities brought to you by companies from all over the region who will liven up the last hours of daylight. There will also be intimate musical performances that will enable the performers and the audience to connect through the score.
Nights: to round it all off… circus and opera.
From 8pm to 9pm, as a final flourish, a blend of opera
and circus awaits you with La Torre de Nadal (The Christmas Tower), during which circus performers will dance to the rhythm of a musical journey by Giacomo
Puccini. During the show, everything that would be unimaginable during the rest of the year becomes possible: a call for utopia as a tool for transformation!
An immersive installation to celebrate winter in Plaça de la Universitat
In Plaça de la Universitat, you'll find Solstice, interpretations of the winter solstice under the prism of the digital arts. It is brought to us by the digital arts and design platform OFFF Barcelona, which will be hosting a daily programme of 3D animations, generative art, light, animated illustrations and films in the middle of the plaza in the shadow of the Barcelona University building. A forest of screens inside an oval-shaped island will capture your imaginations in celebrating the winter solstice among giant screens featuring works by different artists who have interpreted this moment of change and happiness.
Sounds of the City
Jazz, classical music, funk, electronica, brass bands, R&B, punk, Afrobeat and all the genres you can imagine will provide a soundtrack to your wanderings around the city. These little musical surprises will fill many different corners of Barcelona with energy and charm.
The shops, markets, squares and streets in every district will take part in Sons de la Ciutat (Sounds of the City), which will showcase a wide variety of musical styles in the different retail quarters. Primavera Labels from Primavera Sound, Sonar, Say it loud, BAM, the music
school, the Taller de Músics, the opera house conservatoire, the Conservatori Superior del Liceu, the
Associació de Músics de Jazz i Música Moderna and Jam Session will be bringing us more than 100 concerts featuring local groups that will have us dancing until we drop to the city's wealth of music. Leave your headphones at home, because, this Christmas, the music will be with you wherever you go.
You may be also interested