On the vermouth trail: discover some of the best places to have an aperitif
08/03/2017
On the vermouth trail: discover some of the best places to have an aperitif. Do you want to feel like a true Barcelonian? Well, if you do, you can't miss out on going for a vermut. For years this aromatic, herby wine has been the favourite Sunday pre-lunch tipple with local families. It's a tradition that has never died out but is currently undergoing something of a renaissance. Below you'll find our hand-picked selection of classic and recently opened bodegas where you can enjoy a glass of vermouth like the locals do.
Quimet & Quimet
An absolute must as it has kept its own distinctive identity throughout its long history. It embodies the spirit of the typical bar, or bodega, where people go for a vermut: marble counter top, wrought ironwork, hundreds of bottles, wine barrels... Situated in the heart of Poble Sec, it's a neighbourhood classic.
Address: Carrer del Poeta Cabanyes, 25.
Bar Mut
This bar is in the Eixample district, not far from La Pedrera, so you can't afford to miss it. The Bar Mut recaptures the essence of the classic vermut bar while offering a selection of mouthwatering tapas made from top-quality produce which have become its main calling card. As if that wasn't recommendation enough, Robert de Niro always drops by when he's in town!
Address: Carrer de Pau Claris, 192.
Bodega 1900
The chef Albert Adrià ? Ferran Adrià's brother and the founder of restaurants of the calibre of Tickets and Pakta ? fondly remembers the Sundays when he would go to have a vermut with his parents and brother. These memories prompted him to open Bodega 1900 in the district of Sant Antoni. Here you'll find gourmet tinned foods, pickles, cured meats and confits and his own unique take on time-honoured recipes. A gastronomic temple where vermut takes centre stage.
Adress: Carrer de Tamarit, 91.
Lo Pinyol
Vermut with canapés, cured meats and cheeses. Lo Pinyol is located in the buzzing district of Gràcia. The owners have restored some of the typical old features of this 19th-century bar making it a truly cosy spot: high ceilings, multicoloured patterned tiles, a marble counter, wooden kegs? to ensure your experience is complete.
Adress: Carrer del Torrent de l'Olla, 7.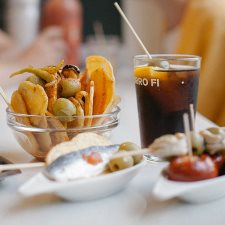 Morro Fi
This tiny bar is located in the Eixample Esquerra, close to Plaça Universitat. It's a great example of the way the new generations have revived the vermut tradition with the "made in Barcelona" design stamp. A classic bar with its own distinctive graphics, where vermut "as owner Marcel Fernández Gasull will tell you" takes centre stage. If you drop by on a Sunday lunchtime you'll find families and young people enjoying this time-honoured tradition with a modern twist.
Address: Carrer del Consell de Cent, 171.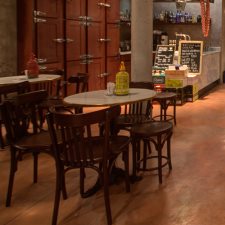 Bodega La Puntual
And from the Raval to the Born, because the city's coolest neighbourhood also has its vermut haunts. This is the case of the Bodega La Puntual, together with the iconic bar Xampanyet, which are both just a stone?s throw from the Museu Picasso. La Puntual is spacious with a high ceiling and you can have a vermut there any time of the day. The back wall has witnessed 1,000 years of history and is an additional excuse to check La Puntual out.
Address: Carrer de Montcada, 22.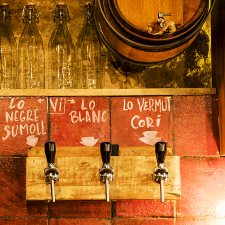 Bodega El Chigre
This unique tavern right by the basilica of Santa María del Mar brings Asturias and Catalonia together through the pleasures of the palate. Two cultures merge through tapas inspired by typical Catalan and Asturian dishes made from locally sourced produce. And you can wash them down with a glass of vermut. El Chigre has a wide variety from different parts of Spain.
Address: Carrer dels Sombrerers, 7.
So now you're in on the secret, come and try a vermut. You're sure to come back for more!
You may be also interested
Skip the line!

Skip the line!