Barcelona and Accessibility: A Wheelchair Users Dream
16/04/2018
Barcelona was a city that I had dreamed of visiting for such a long time and was firmly at the top of my travel bucket list. So I was beyond thrilled and excited to finally visit beautiful Barcelona for four wonderful days.
As our plane touched down and we caught a glimpse of the sunshine we could tell it was going to be a brilliant trip. We left the cold and wet weather back home in Scotland and soaked up the sun and warmth in Barcelona.
Taxi Amic provided wheelchair accessible airport transfers to and from our accommodation. This taxi company was great as I was able to remain in my power wheelchair. The friendly and helpful taxi driver took us to our home for the next four nights.
MICs Sant Jordi is located in the lovely Sarrià neighbourhood just outside the city centre. It provides a peaceful setting with shops and restaurants nearby as well as an accessible metro station directly outside the apartment building. This made it extremely easy to get to and from the heart of the city centre of Barcelona within 12 minutes.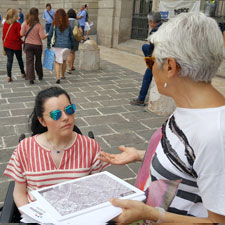 Each day we took the accessible metro into the city centre. This enabled us to explore the many things to see and do in Barcelona. The first thing and one of my highlights of the trip was the accessible walking tour of The Gothic Quarter, l'Easy Walking Tour with Maria Jose who was a fantastic tour guide. The tour gave us a feel for the neighbourhood and a real insight into the history. I was surprised how wheelchair accessible the Gothic Quarter was. It's incredibly beautiful, magical and full of culture.
A trip to Barcelona wouldn't be complete without a visit to the Gaudi masterpiece, Sagrada Família. Its impressive size and beauty had us amazed both inside and outside. It also offers free admission for disabled people and a companion.
We then visited la Casa de les Punxes. This large Gothic-style castle is stunning and with fun interactive displays throughout it is a lot of fun for both kids and adults. With spiky conical roofs, this former home of the Terradas sister is also known as House of Spikes and now offers guided visits.
There are so many great restaurants to choose from in Barcelona. One of our favourites was the amazing Green Spot where we thoroughly enjoyed our vegan dishes. We also enjoyed vegan burgers from Bacoa on the beach and vegan ice cream from Gelaaati Di Marco.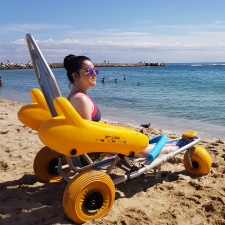 The most memorable and special moment of my trip to Barcelona was getting to enjoy time on the beach with my family with the amazing beach wheelchair, a la platja de Nova Icària. The beach wheelchair allowed me to bathe in the sea and soak up the rays while relaxing on the sand.
I loved how accessible the entire beach was with wheelchair accessible paths/wooden boardwalks, accessible toilets/changing rooms/showers, hoists and assistance from lifeguards. The day at Nova Icària beach was so much fun and one I'll never forget.
- By Emma Muldoon -
- Blog SIMPLY EMMA
Barcelona is an accessible city and offers every facility so that disabled people can enjoy and visit it. You'll find tihis information on the website Barcelona Access.
You may be also interested
10%online

Skip the line!

Skip the line!

Skip the line!

Skip the line!