Passeig de Sant Joan and its surrounding area: where the locals love to hang out
The Passeig de Sant Joan connects the neighbourhood of Gràcia with the Arc del Triomf right by the Born district. It doesn't just link two of the city's coolest neighbourhoods, it has recently become the go-to place for Barcelona locals. The stretch between Carrer València and Carrer Casp and the surrounding area has been newly laid out making it ideal for cyclists and pedestrians. It has become a hotspot with interesting bars and restaurants, delightful shops and places that will simply amaze you. In a nutshell… you can't afford to miss it. Here are a few places you're bound to fall in love with:
Granja Petitbo
This is one of the neighbourhood's favourite haunts. The Granja Petitbo is a warm, welcoming place decorated in the shabby-chic style so popular with bars in northern Europe. The kitchen is open all day and includes brunch at weekends. You're sure to post a photo on Instagram when you visit!
Address: Passeig de Sant Joan, 82.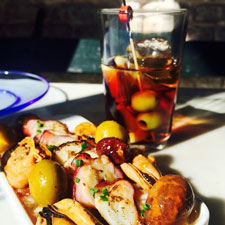 ChichaLimoná
Next door to the Granja Petitbo you'll find Chicha Limoná, the new go-to place for a vermouth and a snack. You'll also find other culinary specialities, an innovative daily set menu and a shop selling quality produce. Culinary skills and a beautiful tiled interior that matches the warm tones of the furnishings mean it is on everyone's lips.
Address: Passeig de Sant Joan, 80.
Casa Bonay
Just off Passeig de Sant Joan you'll find a place that has got everybody talking. The Hotel Casa Bonay has been created with the aim of becoming an essential part of the community. You'll find a great mix of guests and local people who come to sample its wares: the coffee at Satan's Coffee Corner (which you'll also find in the Raval), the juices at Mother, the cocktails at the American bar Libertine and the exotic dishes at its restaurant Elephant, Crocodile, Monkey. They have recently opened a rooftop terrace, El Chiringuito de Bonay. You'll also find two retail stores, one run by the independent publisher Blackie Books and BaTabasta, which specialises in T-shirts. Casa Bonay could easily be defined as the city's most hipster hang-out.
Address: Gran Via de les Corts Catalanes, 700.
Taberna Hoffman
The little brother of the restaurant Hoffman (one of the city's most prestigious eateries) where you can enjoy a glass of fine wine, chargrilled food and tapas. It also serves desserts from the patisserie Hoffmann in the Born district: sinful indulgences that you'll never forget. The perfect place to stop off and recharge your batteries before you continue exploring.
Address: Carrer Girona, 145.
Bed and Bike
The bicycle takes centre stage at this fun hostel that attracts a young crowd. A spacious, functional, attractive space with a large kitchen serving up food for its guests. Free bikes so you can explore the city. Perfect for a stay in the central part of town that's not too touristy.
Address: Carrer Diputació, 360.
As you can see, this area is full of personality and surprises. It has only recently become one of the city's go-to areas, meaning you can still enjoy it like one of the locals. You can't afford to miss it!
You may be also interested
Skip the line!

Skip the line!