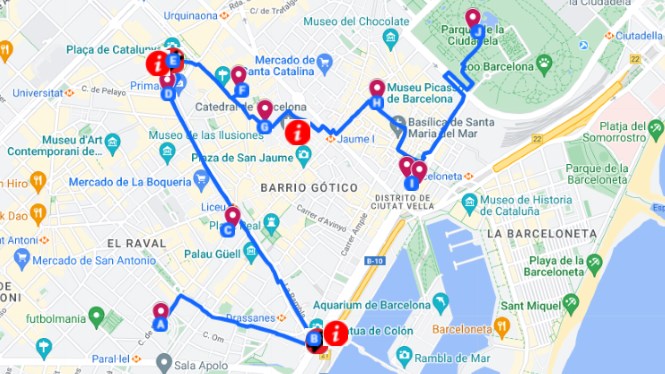 For further information about the route click on the map
Since Picasso arrived in Barcelona with his family in 1895, the city has been key to understanding the artist. He studied at the school of fine arts in the Gothic building, la Llotja, very near his home in the Porxos d'en Xifré, where he painted the city's rooftops and Mediterranean light.
Strolls down La Rambla, through the Parc de la Ciutadella, past the cathedral and along Barceloneta beach inspired Picasso, who forged strong links with Barcelona. He discovered Romanesque art in the church of Sant Pau del Camp in the Raval neighbourhood, which he painted in 1897. He was also a regular at the café Els Quatre Gats, on the ground floor of the Casa Martí, where he took part in artistic and literary gatherings.
In 1905, he moved to Paris and painted his famous work Les Demoiselles d'Avignon. It was one of the first cubist paintings and depicts a brothel in the Barcelona street, Carrer d'Avinyó.
During one of his subsequent short stays in Barcelona, he worked on the costume and set design for the ballet Parade, which premiered at the city's opera house, the Gran Teatre del Liceu, in 1917. While he was there, he produced his painting Paseo de Colón, which was inspired by the city's iconic landmark, the Columbus monument.
Picasso was a great bullfighting aficionado and, on another visit to the city, he went to a bullfight at the Arenas bullring, which is now the shopping complex, Arenas Barcelona. It stands at the bottom of Plaça Espanya and its original 1900 façade has been preserved.
The world's first museum dedicated solely to Picasso is on Carrer Montcada, in the Ribera district. Here you can see works including paintings from his youth and his Blue Period, as well as his famous series re-imagining Velázquez's La Meninas.