Visit BCN /
Barcelona brings you immersive VR and AI experiences, but it has much more to offer
Barcelona brings you immersive VR and AI experiences, but it has much more to offer
The city has a number of attractions related to science, technology and innovation. Here are some of our picks.
Expert analysts predict that by 2026, about 25 % of people will be spending at least an hour and a half in the metaverse. So it should come as no surprise that every day in Barcelona you'll be able to find more things to do that include Artificial Intelligence and Virtual Reality technologies. Barcelona is committed to the use of technology, medical research and innovation. We invite you to discover a side of Barcelona that won't fail to impress.
Did you know that the most powerful computer in Spain is in Barcelona and open to visitors?
Housed in the Barcelona SuperComputing Center (BSC), MareNostrum is one of the most powerful computers in Europe. Its work consists of generating knowledge through a number of scientific disciplines, such as astrophysics and biomedicine. The BSC is a research centre, but it also provides supercomputing services to the entire scientific community. Research into climate change and radiation therapies for cancer are just some examples. Make an appointment and visit this pioneering Spanish machine.
Barcelona and the story of the first photograph taken in Spain
We know the place, the date and the year when the first photograph in Spain was taken, thanks to the widespread coverage in the newspapers of the day. However, 182 years later, the whereabouts of this first snapshot captured in Barcelona remain unknown. It was taken using a daguerreotype camera and you can see one of these devices at the Reial Acadèmia de Ciències i Arts de Barcelona (RACAB). In 1923, Albert Einstein explained his theory of relativity to the most illustrious scientists of the day in the academy's lecture theatre. Don't miss this iconic place in the history of science in Barcelona.
Day or night, enjoy the power of light at the Observatori Fabra
Two majestic telescopes built more than a century ago, and still in use, are one of the attractions of this Catalan art nouveau, or modernista, building designed by the architect Josep Doménech i Estapà. You can take the guided tour during the day or at night. It will give you an in-depth insight into its three main fields: astronomy, seismology and climatology. Before you leave, you'll be treated to spectacular panoramic views of Barcelona.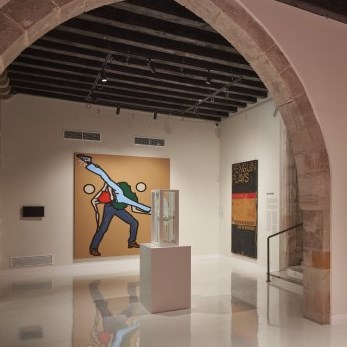 Open your mind and question what's around you at the MOCO Museum
Art and technology come together at the Modern Contemporary Museum (MOCO). Through works by iconic artists of the calibre of Andy Warhol, Jean-Michel Basquiat, Salvador Dalí, Damien Hirst and Yayoi Kusama, to name just some, this former mansion, now transformed into a museum, invites you to enjoy a multisensory experience through digital art. As you can imagine, there's also a space reserved for Non Fungible Tokens, better known as NFTs.
More science and technology content
You may be also interested