Visit BCN /
Discover the innovative Barcelona that is being transformed with its sights set on sustainability and eco-consciousness
Discover the innovative Barcelona that is being transformed with its sights set on sustainability and eco-consciousness
Here are lots of great ideas to introduce you to Barcelona, the city of science and innovation. City trails and iconic landmarks that will reveal a fascinating city.
Barcelona is a city committed to the environment that gives you the opportunity to visit it sustainably and responsibly. It was the first city in the world to obtain Biosphere certification, which recognises it as a destination that manages tourism responsibly.
If you care about your environmental impact, our pick of activities is tailor-made for you. Are you going to join us?
22@ is the district of innovation, technology and industrial redesign
Recycle, redesign and repair: these have been the watchwords of this area that covers little more than 200 hectares of disused industrial land and has been transformed into an innovation district. We recommend the Barcelona Technology Trail, a self-guided walking tour designed for you to discover the buildings in the 22@ district that are noted for their innovative technology.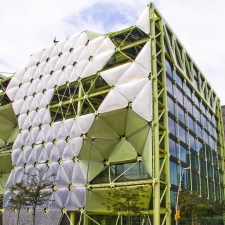 Media-Tic, a unique city building
In the heart of the 22@ district, you'll find this building that symbolises Barcelona's potential in the audiovisual and IT sectors. It is currently home to the Open University of Catalonia, the offices of Mobile World Capital, and Cibernàrium, the training and technology service of Barcelona Activa. Media-TIC  has won numerous architecture prizes. We invite you to discover this building, which is a clear example of urban sustainability.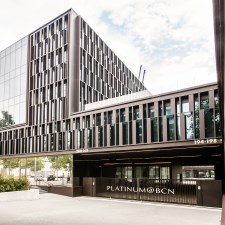 Design to connect human beings with nature
That's what Platinum@BCN is about. It's an example of sustainable architecture in the 22@ district and one of the recommended buildings on this Sustainable Buildings Trail. PlatinumBCN is the first building complex in Spain to have been awarded LEED Platinum certification, in recognition of its ecological and sustainable building methods.
With more than 1,390 m2 of green areas, PlatinumBCN respects the biodiversity of the area. Its bioclimatic architecture and energy engineering have made it a smart, efficient building. The centre of the block, which is an open space that can be used by the local residents, provides the neighbourhood with a green lung.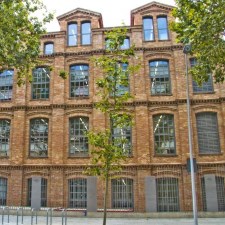 Ca l'Aranyó, from a woollen mill to a multidisciplinary space
Ca l'Aranyó is an example of a classic textile factory that has been transformed into an audiovisual campus. It is a model of industrial architecture in the Manchester style, which uses brick as the main material and iron structures to create the spacious interior bays.
You'll find other examples of industrial-style buildings now used for other purposes, such as art centres, innovative technology enterprises and training centres on the Industrial Relics Trail.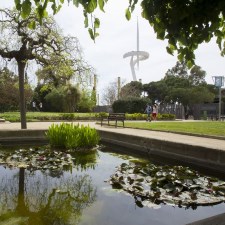 Green lungs that improve Barcelona's air quality
In recent years, Barcelona has made great strides in expanding the city's green spaces, reclaiming parkland with the aim of improving the air quality. The acclimatisation gardens, the Jardí d'Aclimatació are the perfect place to explore Barcelona on foot and breath in the air. Situated on Montjuïc hill, they are home to nearly 230 different plant species. Enjoy this haven of peace, away from the frantic pace of the city.
Barcelona favours responsible and eco-conscious tourism, so enjoy these sustainable walking tours.
More science and technology content
You may be also interested