Barcelona for virtual travellers
When we travel, we want to connect with new destinations without having to disconnect from our familiar surroundings. Luckily for us, in the second decade of the 21st century, few of us leave home without our smartphone or tablet: travelling companions that mean we never feel truly alone. The problem is that we may not be able to find a network we can connect to… but this is something you won't have to worry about in Barcelona.
A network that will get you connected
Just like a means of public transport that will take you anywhere on the network, Barcelona Wi-Fi has 703 free Wi-Fi hotspots, the largest free-access public network in Spain and one of the most extensive in Europe, available to all virtual travellers who visit the city.
The wide coverage means it will be hard to find somewhere where you can't get connected, so we want to take the opportunity to recommend some of the city's best Wi-Fi hotspots you can use while you connect to our wonderful city: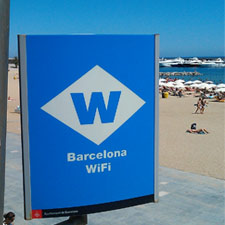 You'll probably start exploring Barcelona on one of its main thoroughfares. Plaça de Catalunya, Passeig de Gràcia, Plaça Espanya and almost all the major streets and intersections have points with the blue W sign where you can take a quick look at your emails or browse the internet without leaving the hustle and bustle behind.
Travellers who are hungry for knowledge will find answers at some of the city's countless museums, including the MNAC, MACBA, CCCB, Museu Picasso, Museu Marítim and the Museu de Ciències Naturals. And if you want to learn even more, all the museums have Wi-Fi networks available for the most inquisitive visitors which you can log on to and further your knowledge on the networks available.
After feeding your mind, you're bound to want to feed your stomach too. We recommend you visit the public market nearest to your location to soak up the new flavours and aromas. The foodies among you will be delighted by the amazing local produce. You may even feel like looking up some recipes on the internet… and markets like Santa Caterina, Sarrià, Les Corts, La Concepció and La Trinitat have their own public Wi-Fi networks so you can sate your appetite.
If you feel like relaxing after your repast while you catch up with what's happening on social networks or look at routes to explore later on, you can take a break in one of the city's parks and gardens such as the Parc de la Ciutadella, the Jardins de Vil·la Cecília and the Laberint d'Horta. They are the perfect places to disconnect while you connect.
And if you feel like stretching out in the sun, don't forget one of Barcelona's main attractions. You can share selfies by the sea while you get a tan and read your favourite online content. The Barceloneta, Nova Icària, Somorrostro and Bogatell
beaches
, as well as the old harbour, the Port Vell, have public Wi-Fi networks which will take your Mediterranean experience to another level.
You can also enjoy free Wi-Fi at the main Tourist Information Offices as well as on board the Barcelona Bus Turístic, where you can get connected straightaway to a network that will guide you through the city.
And no matter what kind of trip you have in mind, Barcelona will always open a window on to the internet for you.
You may be also interested
5%online

Skip the line!

10%online

10%online