The area known as Poblet was once a neighbourhood of fields and low-rise houses. During the 19th century, factories were set up here, fostering the growth of the area. It was here, in 1881, that building work commenced on the church of atonement for the citizens of this expanding city.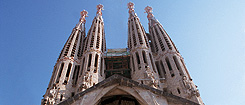 In 1882, the original Sagrada Família Gothic church project, designed by Francesc de Paula Villar, was taken over by the young Antoni Gaudí, who transformed it into the most fascinating church of all time. An architectural bible called the Sagrada Família which has become a Barcelona icon. The building, which is still under construction, has lent its name to the area and made it world famous. After all, the Sagrada Família is a vibrant neighbourhood with its own unique personality.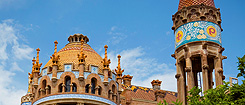 The Avinguda Gaudí, a delightful pedestrianised boulevard, links the basilica with the Hospital de la Santa Creu i Sant Pau, the most representative civil building from the modernista period, designed by Lluís Domènech i Montaner. Both these outstanding modernista landmarks have been declared UNESCO World Heritage Sites.

Where to shop
You'll find the magic of shopping as you experience the city. Discover a thrilling form of sightseeing: walking from shop to shop.

Barcelona Restaurants
The Catalan capital is also a culinary capital: prestigious chefs serve up our traditional cuisine and the flavours from around the world. Can you decide on one?