The old harbour, Barcelona's Port Vell, which stretches from the Columbus Monument to the Barceloneta, offers endless possibilities to enjoy your leisure time, such as L'Aquàrium or Maremàgnum, amongst others. Following a long historic process, the Port Vell, with its landmark buildings and monuments, now gleams like one of the most valuable pearls on the Mediterranean coast.
Port Vell commences at the end of Barcelona's La Rambla, by the Columbus monument, a major city landmark since 1886. At the top of the column, 50 metres above city, a viewing gallery boasts breathtaking views of the sea and the famous boulevard. On one side, the 14th-century medieval shipyards, the Drassanes Reials, provide the opportunity to visit Barcelona's Museu Marítim, and if you head for the waterfront, in the Portal de la Pau, you'll be able to see the historic schooner, the Pailebot Santa Eulàlia, which was built in 1918 and named after Barcelona's co-patron saint. This is the departure point for the traditional pleasure boats, the "Golondrinas", which operate harbour rides around the Port Vell.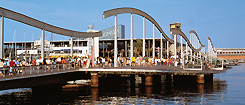 Here, the wooden walkway, known as the Rambla de Mar, leads to the retail and leisure complex Maremagnum, Barcelona's L'Aquàrium. Art works also add a splash of colour to the Moll de la Fusta in the shape of a polychrome sculpture by the American pop artist Roy Lichtenstein, and, still in Port Vell but bordering Barceloneta, the building of the old harbour warehouse, Magatzems Generals de Comerç, reminds us of the area's mercantile past. Under the name Palau de Mar, the red-brick building now houses one of Barcelona's most interesting museums, the Museu d'Història de Catalunya.
Port Vell
Other districts
Here you'll find other districts you might be interested in

Barcelona Restaurants
The Catalan capital is also a culinary capital: prestigious chefs serve up our traditional cuisine and the flavours from around the world. Can you decide on one?
Tourist Material
Tourist brochures to discover the places of interest, the museums, the cultural activities and the best suggestions for visiting the city.

Where to shop
You'll find the magic of shopping as you experience the city. Discover a thrilling form of sightseeing: walking from shop to shop.