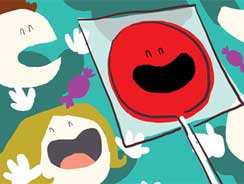 Sant Medir Festival
Popular festivals | Family activities
3/3/2015

Every March, the children of Barcelona enjoy one of the "sweetest" festivals of the city. The streets and squares of the charming district of Gràcia become a festival of sweets, bands and horse carriages. This is the Sant Medir Festival and according to tradition originates from the Saint who lived in the year 303 in Barcelona under the Roman rule of Diocletian, who intensely persecuted Christians. According to legend, Sant Medir's  beans grew immediately after they were planted and for this he was taken prisoner. A hermitage was built where the Saint lived to mark the starting point of the pilgrimage. In 1830, a baker from the district of Gràcia made a pilgrimage to the hermitage on his Saint's Day to thank the Saint for a honoured promise. Today, this pilgrimage has become a popular tradition with the participation of many groups of "colles" from the districts of Gràcia, Sarrià and Sants. Each year, on 3rd March, the pilgrims parade all day through the streets of Gràcia and in the afternoon a spectacular parade is held on the Gran de Gràcia street, handing out sweets to all participants.
Place: Streets and squares of the Districts of Gràcia and Sant Gervasi.

Opening time: All day

The agenda day by day
Here you'll find other events you might be interested
We recommend
Castellers
Popular festivals | Family activities
2015
La casa dels entremesos
Popular festivals | Others | Exhibitions and activities | Music pop, jazz, folk, flamenco...
1/1/2012 To 2016