The district of Sant Andreu: Barcelona at its most authentic.
There are many Barcelonas, and the district of Sant Andreu is one of the clearest examples of this. Although outside the city centre, it is steeped in the essence of Catalonia: picturesque spots, history, centuries-old shops and futuristic amenities blend harmoniously. Come and visit and you'll feel like a genuine Barcelonian.


A village inside a city…
When you walk through the old quarter of Sant Andreu you'll think you've been teleported to a charming inland Catalan village. This is the impression you'll get when you explore the area around the
Plaça Mercadal
, which is well worth posting on your Instagram account. In the Plaça de Orfila you'll be able to admire the neo-classical church of
Sant Andreu del Palomar
. And at the church of Sant Pacià you'll be able to admire a mosaic by Gaudí without having to queue! The main street, Carrer Gran de Sant Andreu, is Sant Andreu's bustling shopping area.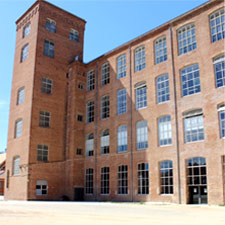 …and a futuristic city inside a village
Sant Andreu has an industrial past and its old factories have now been transformed into amenities, parks and art centres meaning that the ambiance of the district comprises an interesting mix of families, lifelong local residents and young artists and artisans. The former Fabra i Coats cotton-spinning mill retains part of its original factory heritage but is now an art factory and a hotbed of creativity. The La Pegaso lorry factory is now a great park with a water channel running through it. Another successful renovation project is the old dog-racing stadium which has been converted into a centre for creative research and innovation. The La Maquinista shopping complex brings together more than 200 shops in a rational and open space. And Santiago Calatrava's
Bac de Roda bridge
is an example of its new architectural heritage. Lovers of architecture and design mustn't miss a tour of the Casa Bloc, designed by the GATPAC group and an example of 1930s rationalist architecture.
Eat, drink, shop…
It's really easy to enjoy the flavour of Barcelona in Sant Andreu. The
food market
in the Plaça Mercadal has a number of iconic stalls, including the Bacallanería Perelló, which specialises in salt cod. Around the square, on the Carrer Gran de Sant Andreu, you'll find a wide range of interesting eateries, including the Rabassada, a family-run restaurant serving dishes made with the finest-quality ingredients which has a delightful terrace, or the Bar Versalles, on the ground floor of a modernista house which is imbued with the atmosphere of a 19th-century café. Along the same street you'll find another fine building that features on the city's modernista trail: the Guinart chemist's shop which dates from 1896: it's a genuine showcase of modernista architecture both inside and out.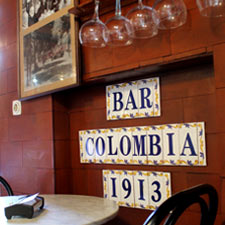 You can also see centuries-old emporia, such as the pork butcher's and deli, the Cansaladeria Puig, which has a bomb casing dating from 1843 embedded into its façade or Catalonia's oldest printing works, the Imprenta Baltasar, which was already supplying the Fabra i Coats factory in 1861. The Can Tur bakery on Carrer Virgili, with its home-made bread, and the Churrería Sant Andreu, with its traditional sugar- and chocolate-coated fritters, are other examples of emporia with a history and tradition that are the pride of all the local residents. The same residents who gather today in the legendary Bar Colombia on the Rambla de Fabra i Puig, just as they did more than 100 years ago. It opened in 1913 and has hardly changed since.
Now you know. If you want a more enriching and authentic Barcelona experience,
Sant Andreu
is waiting for you.
You may be also interested
Skip the line!

10%online

Skip the line!