Revetlla de Sant Joan: Barcelona's most magical night
17/05/2016
If you start to hear fire crackers going off and see bonfires blazing on the night of 23rd June, don't worry; you're about to discover the most magical night of the year. Our traditional Midsummer's Eve celebration, known as the Revetlla de Sant Joan, marks the shortest night of the year with music, cava, fire crackers, flares, a special sweet flatbread, known as the coca de Sant Joan, and bonfires aplenty. Sant Joan is one of our most popular and eagerly awaited festivals. Whether it's because it marks the summer solstice, has the Mediterranean in its DNA, or because of its Pagan roots, one thing's for sure: few Barcelonians spend the night indoors.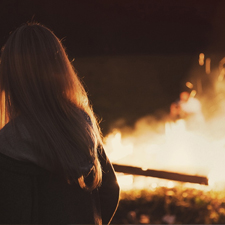 "And where do they all go?", you might ask. Well… they're more than likely to go to one of the many places around the city that welcome the flame from Mount Canigó. Although the Sant Joan festivities have been held since time immemorial (along with the tradition of lighting bonfires to ward off evil spirits), the tradition of the flame of Canigó dates back to 1955. Since then, every 22nd June, at midnight, the flame, which is kept burning all year round at the main museum in Perpignan, is carried to the top of Mount Canigó where it is used to kindle a fire. The fire from the flame is shared out on burning torches and taken in a spectacular relay by hundreds of societies and organisations to their respective towns.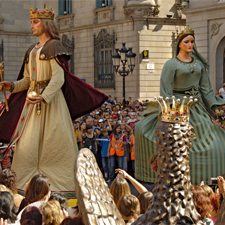 Late in the afternoon on 23rd June, the flame arrives in the Plaça de Sant Jaume in Barcelona, where it is welcomed by the traditional festival figures, including the city's Eagle, the Àliga, and the city's giants, the Gegants. It is then taken to the different neighbourhoods and boroughs. The flame is used to light hundreds of bonfires around the city and neighbours, friends and families gather round them to share in community dinners, concerts, sea shanties, known as havaneres, fire- running processions, or correfocs, and dances, while people let off fire crackers and light flares.
Unmissable things on this magical night …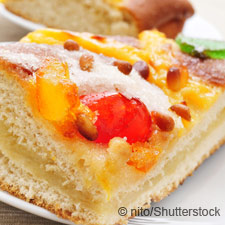 You'll also find the coca de Sant Joan is as prevalent as the bonfires and fire crackers. This traditional sweet flatbread comes in different varieties: topped with candied fruit or pine nuts, filled with confectioner's custard, or made from dough mixed with lardons … and it wouldn't be complete without a glass or two of cava or sweet moscatell. Get hold of one and lose yourself at one of Barcelona's street parties until the sun comes up.
You may be also interested
5%online

Skip the line!

Skip the line!

Skip the line!