Barcelona among the vines
Different ideas for you to enjoy wine tourism close to the city
Near Barcelona, you'll find a whole host of wine-tourism activities and ideas you can enjoy on your own, with your husband, wife, partner or friends including wine trails that will give you an insight into the tradition of wine and cava that is deeply rooted in extremely beautiful and diverse landscapes. The five Designations of Origin in the counties of Barcelona have a great deal to offer, from traditional wineries located inland to vineyards by the sea, paired with traditional cuisine and cutting-edge architecture.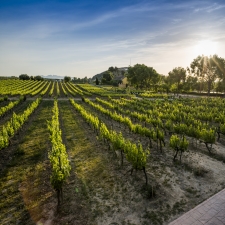 Admired wineries
Just 40 minutes outside the city, in a beautiful setting in the heart of the Penedès region, the Familia Torres Winery offers a wide range of wine-tourism and culinary experiences which have won awards for innovation from around the world. You'll be able to explore the estate on foot, enjoy the peaceful landscape where its iconic wines are produced and taste some of the most exclusive vintages. In 2017, The Torres Winery won the Most Admired Wine Brand Award by Drinks International magazine and "The best wine event" for its winemaking activities. The Familia Torres Winery offers original activities, wine tasting, diverse pairings, exclusive visits and customized tours.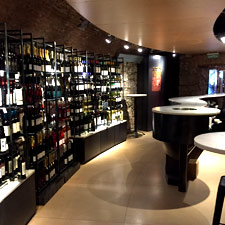 A bird's-eye tasting
Experience always counts and, when it comes to wine, experience involves taking part in a tasting. In addition to this, if the chosen spot boasts some of the finest views of Barcelona, the experience becomes unique. The Punt d'Informació d'Enoturisme i Vins del Mirador de Colom allows you to sample Barcelona from a very different angle while you taste a selection of the finest wines and cavas and our guides fill you in on the range of wine-related activities you can enjoy in Catalonia.
In a more rural setting, in Sant Sadurní d'Anoia, you'll be able to taste wines and cavas and discover the textures, aromas and flavours during the intensive course about wines and cavas run by the Codorniu winery.
Wine culture
Museums and interpretation centres will give you an in-depth insight into wine production. In Vilafranca del Penedès you'll find the Museu de les Cultures del Vi de Catalunya and in Sant Sadurní d'Anoia, the Centre d'Interpretació del Cava, housed in the former wine distillery, Fassina de Can Guineu. Here you can explore the origins of cava, and find out about the history of the vines and some of the leading figures in the wine industry that have made Sant Sadurní d'Anoia the cava capital.
If you want to relax, as well as cultivate your mind and further your knowledge, in the Penedès you'll also find a range of wine-based therapies, including massages and hydromassage pools that use grapes and their by-products to invigorate and rejuvenate the skin.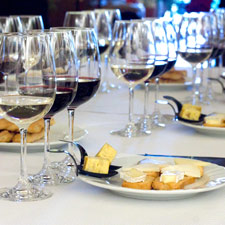 Wine trails
There are wine trails to suit all tastes: you can do them on foot, by car and even on a segway, by four-track or helicopter. The Catalunya Bus Turístic is a great option. You can enjoy its Wine and Cava route which will take you to some of the most renowned wineries in the Penedès where you'll be able to taste some of the region's finest wines and typical produce.
You may be also interested