Six colmados where you can purchase and taste gourmet produce in Barcelona
28/07/2023
Colmados are the forerunners of what we now call delis or gourmet shops. They are the grocers' stores of bygone years where you could find all kinds of food essentials, from powdered milk, to cured meats and sausages and tinned fish... These emporiums offered their customers a wide range of products that would keep for a long time, alongside some of the latest food fads.
The word colmado comes from the Spanish verb colmar, which literally means to fill to capacity. The reference is clear and highly evocative as colmados were usually tiny shops with shelves piled high with the finest tinned fish, vegetables, olive oils, jams and preserves, chocolate, biscuits and all kinds of wines and spirits.
And although these establishments first appeared in the late 19th century, they didn't become popular until the 20th. Now, with the 21st century in full swing, a new concept has come to the fore: shops that have reinvented themselves to adapt to the times we live in and raised the quality of tinned produce to gourmet level.
The renaissance of colmados in Barcelona with foodie credentials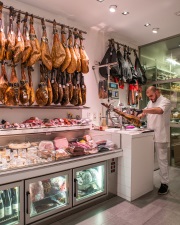 Grocers' shops, or botigues de queviures, have been one of the most traditional kinds of retail emporiums in Catalonia and Barcelona, which, by happy coincidence, is a port city that had access to produce from the Spanish colonies overseas. These shops were also called botigues d'ultramarins, after the Catalan word for overseas.
Over the years, they reflected our daily lives, customs, traditions and time-honoured flavours. They are part of our culinary landscape, the history of Barcelona and the city's food revolution where you'll always find the personalised, attentive service that brings our neighbourhoods to life. They are businesses that have been run by the same families for generations.
With their tempting window displays, they have always vied for prime positions on busy street corners. We could even venture to say that they were the forerunners of advertising, without even realising it. This is because they have always used their windows, piled high with items, many of them attractively packaged, to catch the customer's eye.
The concept has evolved today and now you can sample the produce on the premises as well as buy it. The city's colmados have adopted a new approach and taken on a new, more modern aesthetic. They have joined the lists of trendy places where you can meet up to have a drink and a bite to eat in good company. This current trend has made them into specialist shops you can't afford to miss.
Tastings on the premises: the authentic flavours of Barcelona's colmados

Aaltabotica
If you want to satisfy your whims, surprise someone with a gift and share happiness…, we are your trusted gourmet destination. After reading this slogan, who could resist popping into this boutique colmado in the heart of the Eixample district? You'll find all kinds of deli products made from the finest raw ingredients, as well as an area where you can sample them. The tasting section serves food to fine-dining standards made from the products on display.
Address: Enric Granados, 114
Casa Pepe
On Carrer Balmes or in the neighbourhood of La Bonanova. Both outlets are a great choice if you want to have a bite to eat at one of Spain's finest gourmet delis. Casa Pepe was founded on Carrer Balmes in 1947 as a specialist, neighbourhood grocers' shop. Over the years, it has evolved and expanded its product range. Now, it invites you to sit down and eat on the premises. The shop in La Bonanova even has an outdoor terrace where you can sit, enjoy good company and relax while you sample the quality produce.
Addresses: Balmes, 377 / Plaça Bonanova, 4
Colmado Múrria
The beautiful art nouveau frontage of the Colmado Múrria has always caught people's eye. Originally known as La Puríssima, it opened in 1898 as a coffee roastery and wafer makers. Josep Múrria purchased the shop in 1943 and transformed it into a specialist deli. A recent refurbishment has added a bar and restaurant where you can sit down and sample the products or order dishes from the menu.
Address: Roger de Llúria, 85
Colmado Wilmot
And absolute must for fans of hearty breakfasts, the Colmado Wilmot, in the neighbourhood of Sant Gervasi, serves time-honoured dishes and products with a contemporary twist. From snacks and vermouths to slices of potato omelette, capipota (veal head and hock stew) and casseroles, you'll always find extremely tasty combinations brought to you by its chef.
Address: Calvet, 28

La Teca
La Teca is the perfect place to have a great time sharing cheese and wine. Not for nothing is it associated with one of the world's top wine distributers, Vila Viniteca, which sells a vast range of wines from Spain and abroad. That's why it should come as no surprise that there's always a wine expert on hand when you sample the produce to guide you and ensure your experience is absolutely top notch. La Teca has a tasting area with a bar, four tables and a private room where you can indulge in an unforgettable gastronomic experience.
Address: Agullers, 9
Morro Fi
Vermouths and pre-lunch snacks, and more snacks. You can sample them at the traditional counter or take them away to try at home. There's a wide range of products for you to sample and it's the perfect place for people with a refined palate, which just so happens to be called morro fi in Catalan. You'll find cured meats and sausage, cheeses, wines, tinned fish and even oven-ready dishes for you to heat up, serve and enjoy at home. They also have an online shop where you can do your shopping in a single click.
Addresses: Consell de Cent, 171 / Passeig de la Bonanova, 105
You may be also interested
Skip the line!

Skip the line!

Skip the line!

Skip the line!