Barcelona presses play: the live music festivals you can't afford to miss
02/05/2023
You can hear music all year round in Barcelona, and, when the fine weather comes, the city has an endless array of festivals in store. They cover every musical style and genre: some of them are being held for the first time in the city, while others are now established as world-class events, which have made Barcelona, with its ground-breaking and innovative programme, one of the world's music festival capitals. Which one is on your bucket list?
Urban music: tomorrow's trends, today.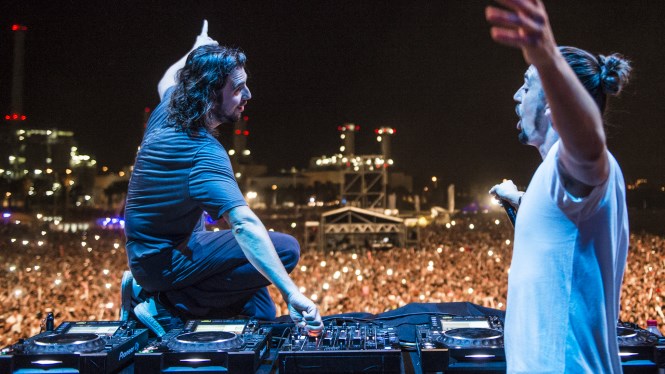 Up-and-coming bands and established performers with one common denominator: they are the leading exponents of the music that emerged from the counterculture and the underground. Trap, hip-hop, reggaeton, rap… find out where to hear some of the world's most radical and alternative voices this year in Barcelona.
FSTVL•B22
As part of this festival, Barcelona's concert venues stage performances by the artists who are shaping the urban music of tomorrow. An absolute must for anyone wanting to stay in the loop.
Reggaeton Beach Festival
The urban style of Latino rhythms takes centre stage at the world's biggest urban beach festival, which also features a great choice of alternative activities, such as water attractions and other surprises.
Share Festival
The Share Festival 2023 will feature the sounds of hip-hop and urban trap that are being heard around the world, with big names like Bizarrap, Quevedo and Morad.
Alternative music: the best sounds on the indie scene.
Subgenres like alternative rock, post-punk, new wave and indie music have had a loyal following since they became the movements for an entire generation. Nowadays, indie music festivals play host to legendary bands and performers, and Barcelona is home to some of the most important ones:
Cruïlla Festival
An unmissable summer festival where you can dance to and enjoy the sounds of the headline acts who never disappoint fans of Spanish and international indie music.
Primavera Sound
For years, this has been one of the major indie music festivals. Its stages have welcomed legendary bands, such as Pet Shop Boys, Blur and New Order, who have come back time and time again and will be returning to Barcelona in 2023.
Alma Festival Pedralbes
After ten years at the Jardins de Pedralbes, the Alma Festival is moving to the Poble Espanyol de Barcelona, but will stay true to its eclectic programme featuring big international stars and cult bands.
Rock and punk music: rock will never die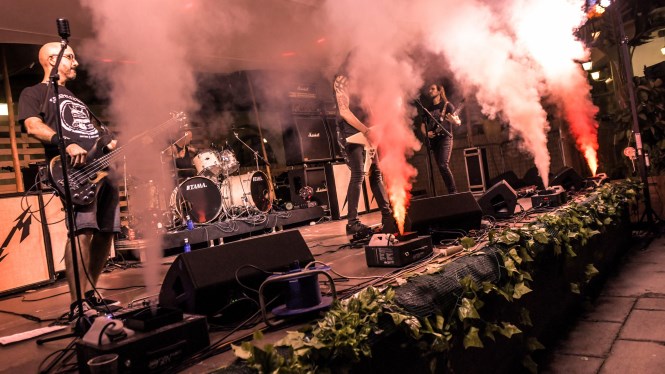 There are genres and styles like rock and punk that have withstood the passing of time and endure, generation after generation, thanks to their loyal audience.
Barna'n'roll
Punk rock, post punk, hardcore punk… this high-energy festival showcases every genre of 1970s' punk and features legendary bands.
Electronic music: the pinnacle of club culture
Electronic music subgenres, such as techno, house, synth pop and experimental music, have carved a niche for themselves at clubs around the world thanks to skilled DJs. As a city at the cutting edge of music, Barcelona hosts some of the world's most important electronic music festivals.
Sónar
This decade-spanning experimental festival par excellence and cradle of advanced music, is now a multidisciplinary event featuring a space showcasing the latest breakthroughs in the fields of technology, music and contemporary creativity.
OFFWEEK Festival
This open-air festival by the sea features a carefully curated pick of electronic music.
Brunch! Electronik Festival
Three days, five stages and three different locations designed for you to dance night and day to the rhythm of electronic music.
MOSTRA Festival
A small-scale independent festival showcasing avant-garde and experimental electronic music.
SOUNDIT Festival
This festival will delight lovers of DJ sets and electronic music. Held at two venues – the Parc del Fòrum and the Plaza Monumental.
Classical music: the city's great musical tradition
Barcelona has a long-standing association with classical music and has become one of the go-to European cities for lovers of the genre. Discover the classical festivals that fill the city's three main concert halls and other venues with exceptional acoustics.
Barcelona Obertura Spring Festival & Ciutat de Clàssica
Big names from the Spanish and international scene attract audiences to Barcelona's three concert halls and some of the city's iconic buildings.
Festival Llums d'antiga
Organised by the concert hall L'Auditori, this festival pays tribute to early music and is held at three of Barcelona's most fascinating medieval buildings: the basilica of Sant Just i Sant Pastor, the basilica of Santa Maria del Pi and the monastery of Sant Pau del Camp.
Mozart Nits d'Estiu
A tribute to the genius from Salzburg with L'Auditori's resident orchestra, the Orquestra Simfònica de Barcelona i Nacional de Catalunya (OBC), and great performers from Spain and abroad.
Music from other genres: jazz, folk, traditional, world music and much more.
The city hosts festivals dedicated to individual genres that have an enthusiastic fan base. They give followers and people who want to discover new styles the opportunity to enjoy a carefully curated, special musical programme.
Barcelona International Jazz Festival
It has established itself as one of the world's leading jazz festivals with performances at different venues around the city. The festival also includes jazz-related activities, such as master classes and talks.
Bubble Pop
The K-Pop phenomenon has its own festival in Barcelona with Bubble Pop, which, for two days, transforms manga culture into music.
Embotona't
Diversity takes centre stage at this inclusive festival designed with families and children in mind. It also features film screenings, workshops, puppet shows and much, much more.
Irídia Fest
This music festival features a varied programme of jazz, kuduro and reggaeton to raise funds to fight institutional violence.
One Heart: International Gospel Festival
The biggest names in gospel come together at this festival where performers and fans can meet.
Tradicionàrius International Folk Festival
This long-established festival is held every year with a packed programme of folk concerts, featuring music and dance.
Festivals at different venues: concerts in every style around the city
GuitarBcn
This long-established festival attracts an eclectic and cosmopolitan line up of big-name performers at different Barcelona venues.
Mas i Mas Festival
Originally created as a small-scale jazz club festival, Mas i Mas has become an unmissable fixture on the city's cultural calendar, attracting artists from every genre who perform at different venues around the city.
Festival del Mil·lenni
The Festival del Mil·lenni has established itself as a Barcelona classic. It encompasses a wide variety of musical styles, attracting big stars from Spain and around the world to some of the city's most iconic venues.
BAM Barcelona Acció Musical
BAM is held as part of Barcelona's main festival, the Festes de la Mercè, and has become a key event that discovers up-and-coming talent from Spain and abroad with unique, new and original sounds.
Have you decided which is your favourite festival? Find out about the dates, programme and much more on our cultural calendar. Barcelona and its music are waiting for you!
You may be also interested
Skip the line!

Skip the line!

Skip the line!

Skip the line!