Where to find wine served from the barrel in Barcelona
03/01/2023
Drinking wine served straight from the barrel is a tradition that has recently made a comeback and is here to stay. So much so that now you can easily find bars where you can refill your wine bottles to take home with you, or even enjoy a glass of wine on tap or from the barrel. In Barcelona there are lots of places to choose from, where you can also enjoy a bite to eat with your chosen glass, in the best company.
Celler Duran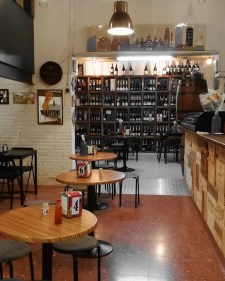 Tinned fish, banderillas (a combination of olives, peppers, anchovies or other ingredients threaded onto a cocktail stick), and famous patatas bravas (potato wedges served with a spicy sauce)…, are among the tasty tapas served at the legendary Celler Duran in the Sants neighbourhood, and are the perfect accompaniment to the glasses of wine from the barrel and vermouths served with soda water and olives. We recommend you take a seat and let yourself be transported by the magic of a place under the attentive gaze of Marilyn Monroe, whose photo stands on one of
the shelves inside the bar.
Address: Esteràs, 18.
El Celler de la Ribera
El Celler de la Ribera specialises in artisan draught beers and wines served from the barrel. It prides itself on its offer of 700 wines made by small producers, over 150 beers and the whites, reds and rosés and vermouths that flow from 20 taps. There's so much on offer that you'll find it hard to choose, but the team of wine and beer experts will advise you. It's also the perfect place to buy a bottle to fill up your wine rack at home and has great gift ideas. The team also runs bespoke tasting courses for people who want to learn a little as well as enjoy the products.
Address: Cigne, 12.
Bar Salvatge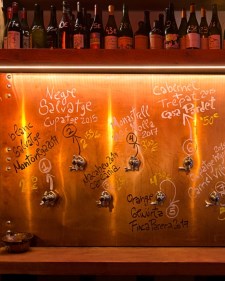 This bar, in the heart of the neighbourhood of Gràcia, serves natural, low-intervention wines. As soon as you cross the threshold, you'll be tempted by its array of wine on tap, served from the barrel or by the bottle or glass, on its own or accompanied by a snack. Wine from the barrel is the star of the show, and the centrepiece is the large panel of taps inside the bar which ensures the wines made by different growers keep flowing. The wines change on a seasonal basis. Even if you haven't heard about the wine before, whichever one you choose will delight your palate.
Address: Verdi, 50.
Celler Hostafrancs
As soon as you step inside the Celler Hostafrancs you'll be taken on a journey to different parts of the Catalan wine-producing region through its wines. It's a place where you can ask for a glass or bottle of wine or leave laden with bottles of wine from the barrel. As the perfect accompaniment, you'll find a wide array of products for your pre-lunch snack: crisps, tinned cockles, olives… a wonderful combination that will ensure you have a really good time.
Address: Sant Roc, 22.
Casa Mariol
Casa Mariol is a family-run winery, founded more than a century ago, that makes wine in Batea, in the county of Terra Alta. It makes whites, reds and rosés and is also renowned for its vermouth. A few years ago, the family decided to bring their range of products to Barcelona and opened a bar where the public could sample the wine-growing landscape of this region near Tarragona. You'll find single-variety wines made from White Grenache, Carignan and Syrah grapes, sold by the bottle, or straight from the barrel. You can also enjoy the wines with a plate of tapas and snacks made from
locally grown, seasonal produce.
Address: Rosselló, 442.
Bodega Nadal
When you think of a time-honoured bodega, the image of a bar with shelves crammed with bottles springs to mind with rows of barrels of wine with the name of the village they come from written in chalk on the front. And this is exactly the case with the Bodega Nadal, a place in the Sants neighbourhood which gives a friendly welcome to its clients while serving them a glass of wine from the barrel accompanied by a tasty tapa or snack. If you're in the neighbourhood, we recommend you pop in at lunchtime for a glass of vermouth and a snack.
Address: Constitució, 130.
Celler El Tros
Tastings, dinners paired with wine from all over Catalonia, theme nights, foodie pop-ups, product presentations… El Tros is a place where things happen, like a kaleidoscope where the shards of coloured glass and mirrors change infinitely every time you shake it. This is how they describe themselves and it couldn't be truer. Since 2017, this bar has been committed to bringing the wines of the Priorat to Barcelona, with an extensive list of wines from this region, as well as other parts of Catalonia. Wines by the glass, bottle or straight from the barrel, tailored to the customer's taste.
Address: Mallorca, 303.
You may be also interested