Barcelona, an accessible city
02/12/2022
Did you know that Barcelona is one of the world's most accessible cities? With a history dating back more than 2,000 years, it has evolved into a more accessible and user-friendly place, meaning that, if you're a wheelchair user, you can explore its streets among relics of Roman times, Gothic churches, art-nouveau, or modernista, buildings and contemporary landmarks free of restrictions. And you'll not only discover history and culture without barriers, you'll also have the opportunity to see that the most celebratory side of the city embraces diversity. With its Mediterranean climate, Barcelona pulsates throughout the year thanks to its unique events and traditions, including the day of Sant Jordi, human towers, or castellers, and parades of giants, big heads and fire-breathing dragons, which are an integral part of Catalan culture you can enjoy as you please. You're going to love them!
A CITY THAT OPENS ITS DOORS TO DIVERSITY

Barcelona has launched a series of initiatives that include elements of accessibility to ensure that everybody, including people with disabilities, can enjoy the city:
A special assistive device providing traffic-light control for people with visual impairments to ensure they can cross the road safely. It is available from the official tourist information office in the centrally located Plaça de Catalunya.
Adapted bathing: All the city's beaches, along 5km of coastline, are accessible. Some of them provide a free assisted bathing service from April to September for people with restricted mobility. They also provide changing rooms, floating bathing chairs, hoists, life jackets and adapted beach umbrellas.
You can explore the city's landmarks and attractions in a dynamic way with sign-language tours, or enjoy audio-described performances.
Getting around…
You'll have no problem getting to the city. Barcelona airport  provides free assistance on request for disabled passengers. And the Sants and França railway stations also offer pre-booked assistance.
All the platforms on the metro system have access ramps and 93% of the stations have lifts. All the buses have ramps and areas for wheelchair users, including the Barcelona Bus Turístic. The latter also has an audioguide available in sixteen languages. Audio-induction loops for hearing-impaired visitors are available at the tourist information office in Plaça de Catalunya.
Barcelona is a pioneer in assisting visually impaired people with its NaviLens system. The metro stations and bus stops have tags in place that can be read using a mobile app to help them find their way around independently and safely.
Barcelona's tram system is environmentally friendly, fast and comfortable and is also accessible for people with different kinds of disabilities.
And, of course, your guide dog will be welcome everywhere.
WORLD HERITAGE: A VISIT YOU MUST NOT MISS

Barcelona is home to true architectural gems and nine World Heritage landmarks. They are all accessible for disabled visitors. Here are some examples:
Casa Vicens. This was the first building designed and built by Gaudí and is accessible for wheelchair users. It has an audioguide in thirteen languages, videos with subtitles and original decorative elements that visitors can explore through touch.
Two of Gaudí's major landmarks, the Basilica of La Sagrada Família and La Pedrera, are wheelchair accessible and have an audioguide in different languages, audio-induction loops for the hearing impaired and tactile models. Visitors can also explore some of the decorative elements through touch.
Lluís Domènech i Montaner's majestic Palau de la Música Catalana has no architectural barriers and is adapted for visually impaired visitors. It also has an audioguide in eight languages and runs pre-booked accessible guided tours.
Domènech i Montaner's other major project, the Sant Pau Art Nouveau Site, is fully wheelchair accessible.
ACCESSIBLE MUSEUMS AND EXHIBITION VENUES IN BARCELONA
Most of the city's museums and exhibition venues are accessible for people with different kinds of disability and you can find out about them here . Some of the most important have been designed to ensure nobody is excluded:
The Fundació Joan Miró is fully wheelchair accessible and provides a number of services for people with special needs.
The city's maritime museum, the Museu Marítim, is barrier free and includes a series of tactile models that visually impaired visitors can explore through touch, as well as other services.
The Reial Monestir de Santa Maria de Pedralbes: It is home to a wonderful art collection and has a stunning three-tier cloister, which is one of the largest and best preserved in Spain. A truly beautiful landmark. Wheelchair users may need assistance during their visit. The monastery has audioguides in six languages, tactile models and other elements, including the fountain in the cloister and information in Braille.
FOOD IN BARCELONA: A TREAT FOR THE TASTEBUDS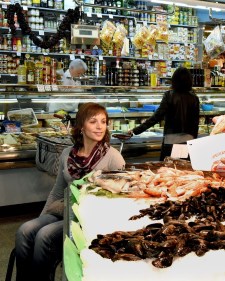 Barcelona's culinary creativity is world renowned and the culture of good food is everywhere:
You can savour Catalan traditions in the Mediterranean diet and typical dishes and food. You'll find a wide variety of restaurants that are accessible for people with restricted mobility where you can enjoy fresh, quality, seasonal produce.
There are a number of great, unmissable Barcelona customs. How about a pre-lunchtime glass of vermouth and a snack? We also recommend you visit some of the city's food markets  where you'll be immersed in a world of colours and aromas epitomised by the local food.
ACCESSIBLE ACCOMMODATION IN BARCELONA
Barcelona has a great choice of accessible hotels:
The ILUNION Barcelona Hotel, in the seafront district of Poblenou, has been awarded Universal Accessibility Certification, meaning it is 100% accessible.
The Hotel NH Collection Barcelona Constanza in Les Corts is fully wheelchair accessible and has Braille signage.
The Hotel Majestic & Spa, in the heart of the art nouveau boulevard, Passeig de Gràcia, has a room designed for people with restricted mobility and functional diversity, which retains the original charm of the hotel.
You can find out about all the other options on the Tour4all hotel search engine, which lists the different accessibility criteria.
ACCESSIBLE EXPERIENCES IN BARCELONA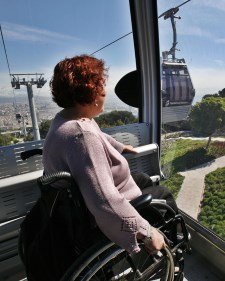 You can enjoy Barcelona in an accessible way by air and sea as well as on dry land.
If you're a wheelchair user, you can travel to Montjuïc Castle inside one of the panoramic cabins on the Montjuïc cable car , or visit the recently opened Glòries Tower viewing point on the 30th floor, which boasts bird's-eye views of the city.
And if you want views of the city from the sea, you can choose an adapted sea tour on Europe's biggest environmentally friendly catamaran, the Eco Slim, or on the traditional Golondrinas pleasure boats. They are all partially adapted for wheelchair users.
ACCESSIBILITY BEYOND THE CITY
Between the Pyrenees and the Mediterranean, the area around Barcelona offers a wide variety of enjoyable accessible experiences:
Inclusive wine-tourism trail at Sumarroca: This winery, nestling in the heart of the Penedès, brings the world of wine to visually impaired visitors with its sensory experiences. Its vineyards have ramps providing access for people with restricted mobility.
Adapted bike trail along the green ways in Girona and its environs.


Hot air balloon ride over Montserrat and the Pedraforca massif with easy access baskets adapted for wheelchair users.
Enjoy the snow with adaptive skiing at La Molina or on one of the inclusive circuits at the Tavascan ski resort.
As you can see, Barcelona is waiting for you to ensure nobody and nothing can stop you. We look forward to seeing you soon.
You may be also interested
10%online

Skip the line!

50%online

10%online