Barcelona, the sweetest city
09/11/2022
Everyone needs a little sweetness in their lives and this may be the perfect excuse to visit Barcelona, a city with a long-established tradition of chocolate and confectionery. If you have a sweet tooth, you can't afford to miss the mouthwatering delights you'll find along the way in this chocolate and cake heaven. We present the sweetest Barcelona.
A tradition steeped in history
Throughout the year, you'll find so many reasons to enjoy Barcelona's typical sweet treats that bring the family together around the dinner table: Lenten fritters, bunyols de Quaresma, the spectacular Easter cake, the mona de Pasqua, the Catalan version of crème brûlée, crema catalana, which is traditionally eaten on Saint Joseph's Day, and the sweet flatbread, coca de Sant Joan, on 23rd June. Other delicacies include the almond-paste balls, panellets, which are eaten on All Saints' Day, tubular wafers called neules, turrón nougats, and the ring cake, the tortell de Reis, which is eaten at the end of the Christmas festivities, on 6th January… Every feast day has its own sweet treat!
When cacao arrived in Spain from the Americas in the 16th century, it brought with it a new (and sweeter!) way of understanding life. Over time, chocolate became an essential ingredient in Barcelona's traditional confectionery and baked treats, such as the Easter cake, the mona de Pasqua, and patisseries, chocolate shops and cafés sprung up around the city. The mona de Pasqua has evolved from a basic brioche topped with hard-boiled eggs to a true work of art, crowned with spectacular chocolate sculptures. During Holy Week, the windows of the city's cake shops display their amazing creations, transforming the streets into chocolate art galleries.
In the 1940s, the shops that sold dairy produce, known as granjas, began serving a beverage that became a resounding success: a delicious cup of thick hot chocolate topped with a dollop of whipped cream, known as a suís. Today, Carrer Petritxol is Barcelona's epicentre of chocolate. Not for nothing is it known as chocolate street! You can sample this famous chocolate concoction at the time-honoured granjas along the street, accompanied by crunchy fritters, known as churros, or sponge fingers, called melindros. Dunked in the thick hot chocolate, they are the perfect way to warm you up instantly on a winter's day.
The
Granja Viader
on Carrer Xuclà is another classic that has withstood the test of time and serves a great selection of dairy-based sweet treats, including a crème caramel, known as
flam
, curds, or
mató
,
crema catalana
, chocolates, and gluten-free cakes, which are all made on the premises. In 1931, Viader invented and sold one of the city's most popular drinks: a chocolate milk called
Cacaolat
.
And for many generations, a slice of bread topped with chocolate, olive oil and a pinch of salt (pa amb xocolata) was their favourite teatime treat. In recent years, this sweet tradition has experienced a resurgence and evolved into a gourmet dessert on restaurant menus.
From the traditional to the cutting edge

With such a history, it should come as no surprise to anyone that Barcelona is home to great, renowned confectioners, such as Oriol Balaguer, Enric Rovira and Christian Escribà. They have put the city on the map of world sweet treat capitals and been a source of inspiration for a new generation of confectioners. Times change and now technical refinements and innovations have joined forces in the search for healthier foods made with low-sugar products, vegan desserts and gluten-free cakes, which are all just as delicious and amazing. Nearly all Barcelona's cake shops have followed this trend and show that respect for tradition and innovation to create healthier food can coexist, side by side.
Mouth-watering meanderings: the unmissable places
All the city's neighbourhoods have a great choice of high-quality cake shops, chocolate shops and bakeries that will captivate you with their creations, artisan produce and tasting areas. Here are some of the unmissable places for lovers of chocolate and sweet treats.
For chocolate lovers
A city that is so devoted to chocolate wouldn't be complete without its own museum: the Museu de la Xocolata. You'll be filled with wonder, just like Charlie in Willy Wonka's factory. Not only does the museum trace the history and traditions of this exquisite delicacy, it also runs workshops and other activities that will delight kids and adults alike. They range from painting with chocolate to making lollipops and chocolate figures.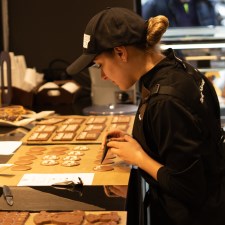 Chocofiro
is a haven for artisan chocolates and all kinds of chocolate gifts, including chocolate photographs and visiting cards. And the Barcelona-based
Chocolat Factory
has transformed chocolate into a design object and work of art. It's a place full of tempting treats that you can try in its chocolate tasting areas, paired with wine and cava. Make sure you don't miss the
Casa Amatller
, one of the city's art nouveau, or modernista, gems, which was designed and built by the architect Puig i Cadafalch for the chocolate manufacturer Antoni Amatller. Amatller chocolates are still being made today. If you visit on Sunday, a cup of thick hot chocolate is included as part of the ticket price. Don't miss the façade which looks like a giant bar of chocolate!
Sweet traditions
The city's cake shops and bakeries take centre stage on the calendar of traditional celebrations and make cakes and sweet treats for every occasion. At the
Forn Elias
, you'll find traditional products with time-honoured flavours. The
Mauri
patisseries have been in business for almost three quarters of a century, and have become true Barcelona classics. Drop by to sample their excellent sponge fingers, or
melindros
, with a thick hot chocolate in the cafés on their premises. The
Pastisseria Escribà
is housed in a historic building on La Rambla and is well worth a visit, not only because of its Catalan art nouveau, or modernista, architecture, but also for its sweet treats, cakes and confectionery that have been made by four generations of the family. And if you want to take a piece of Barcelona home with you, make sure you visit
Gastronomic Souvenirs
where traditional local sweet treats are transformed into unique gifts. They will even wrap them in protective packaging ready for travel.
Turrón, turrón and more turrón
Turrón is the ultimate sweet treat at Christmas in Catalonia and the rest of Spain. However, you can eat it at any time or on any occasion. The classic varieties are made from almonds and honey. They can be soft or hard and even made from ground almonds and egg yolk with a burnt sugar topping. The latter is the flagship product at the patisserie La Colmena , where they have been making it since 1849. La Campana is a family-run business based in Jijona (Alicante). Its Barcelona shop, which sells an exquisite range of turrón, opened in 1920 and has remained unchanged ever since. The building has been awarded landmark status. Torrons Vicens has several shops in Barcelona and sells traditional turrón. It is renowned for developing creative and innovative varieties of this sweet treat and launches new ones every Christmas.
Ice cream all year round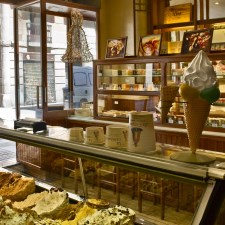 Ice cream is another of Barcelona's sweet passions and you can sample countless different varieties all the year round. Ice creams that come in a thousand and one flavours, which you can try at traditional ice cream parlours and on premises that are icons of modern design. Make sure you visit the Sant Croi patisseries, which won the award for the best artisan ice cream in Spain in 2022 with 100% vegan flavours.
Have we made your mouth water? Well, don't delay and come to Barcelona: the sweetest city is waiting for you.
You may be also interested
Skip the line!

Skip the line!

Skip the line!

Skip the line!