Barcelona's gin and tonic temples
In 1825, officers in India, which was a British colony at the time, would never have imagined that their ingenious way of taking medicine would have become one of the most popular drinks in the world. At the time, they had to take quinine tablets to combat outbreaks of malaria. However, the officers found an ingenious solution to their intensely bitter flavour. After a number of trials, they came to the conclusion that dissolving the tablets in water and mixing the solution with lime juice, sugar and gin would not only mask the nasty bitter taste, but would produce a well-balanced, refreshing drink that could be enjoyed in the company of others.
Decades later, this curious invention, known as "gin and tonic", continues to cross boundaries. In five short years, it has conquered Barcelona's bars; so much so that bottles of gin fill their display cabinets and shelves. Their origins and blends are as varied as the combinations you'll find at the thousands of bars that specialise in serving them. Below you'll find a few suggestions, depending on the neighbourhood you are in, but if you look around the city, you're bound to find many more temples. The "gin and tonic" religion has many worshippers in the city.
Eixample
Milano Cocktail Bar
Reminiscent of a speakeasy in Prohibition-era Chicago. To enter, you have to go down a dark flight stairs into a kind of basement. But don't worry, once inside you'll find a spacious lounge with red armchairs and an aesthetic in the style of Vito Corleone which will take you back to the wonderful 1940s.
Address: Ronda Universitat, 35
How to get there: (L1, L3)
Gràcia
Bobby Gin
A modern, cutting-edge bar founded at the height of Barcelona's "gin and tonic" fever. This explains its extensive selection of Spanish and international brands. You'll also find Catalan gins. Can there be anything more "Barcelonian" than sipping a locally produced "gin and tonic"?
Address: Francisco Giner, 47
How to get there: Fontana (L3)
El Born - La Ribera
Mudanzas
The undisputed heritage site of the Born's nightlife scene, this curious bar, which stands on the former premises of a removal firm, retains the original interior from more than one hundred years ago. You can still see the original logo above the door. Its period furniture and bohemian atmosphere are the perfect match for your "gin and tonic".
Address: Vidrieria, 15
How to get there: Barceloneta (L4) and Jaume I (L4)
El Raval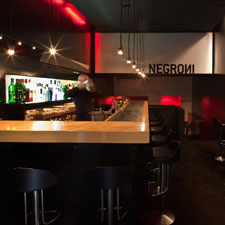 Negroni
Straddling the classical and the modern, this elegant, small bar in the heart of the Raval won't fail to impress. It doesn't have a cocktail list. All you have to do is tell the barman what kind of "gin and tonic" you have in mind and the flavour you want, and he will pour it delicately into your glass with his customary flair and expertise.
Address: Joaquín Costa, 46
How to get there: Universitat (L1, L2)
Gothic Quarter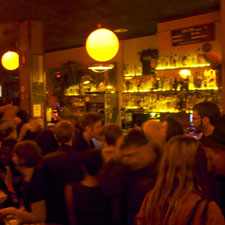 Manchester
This is maybe the wildest, underground bar of them all, and not just because of its handpicked selection of music from the late 70s and early 80s, and 90s' Britpop. You'll hear sounds from groups like Joy Division, New Order, Happy Mondays and The Stone Roses in this bar with its dim, red lighting. A great place to start the evening with great music and even better company.
Address: Carrer Milans, 5
How to get there: Drassanes (L3), Jaume I (L4)
Poble-sec
Maumau lounge club
With more than 37 types of gin and 15 brands of tonic, this spacious warehouse that has been converted into a lounge club, is one of the main hubs of Barcelona's nightlife scene and an iconic Poble-Sec venue.
Address: Fontrodona, 35
How to get there: (L2, L3)
Barceloneta
Zahara cocktail club
Anyone who says that all you can do in Barceloneta at night is eat rice dishes and have a few beers is mistaken. There are plenty of more sophisticated places too, like Zahara. Its terrace is a great spot to sip the perfect "gin and tonic" and watch the people go by on the busiest street in this quirky neighbourhood.
Address: Pg. de Joan de Borbó, 69
Com arribar-hi: Barceloneta (L4)
Poblenou
Balius
The only contemporary thing about Balius is the fact that it recently opened, because the rest is like taking a trip back in time. The owners have retained the original sign and name of this former neighbourhood drugstore. The 1960's décor is so convincing that once you sit down you'll half expect Don Draper to walk through the door.
Address: Pujades, 196
How to get there: Poblenou and Llacuna (L4)
You may be also interested