Experience Barcelona's gastronomy first hand
31/05/2022
It is almost impossible to visit a city without experiencing its cuisine, and this is an excellent way of getting to know the local culture. Barcelona is no exception to this rule. Quite the opposite! There are so many restaurants, so many pastry shops, so many bakeries, and so many gastronomy-related fairs and festivals that food and drink have become enough of a reason to visit the Catalan capital.
But, beyond the eating places, visitors can experience gastronomy first hand through a number of special experiences that can help them get to know Catalan cuisine and wines even better and, even become chefs for a day. Take note of these ideas!
Cookery workshops
What do you like eating most in Barcelona? Can you imagine learning how to prepare that dish so that when you return home you can make it whenever you want, as if you were living in the city? This is what the cookery workshops held in various parts of the city allow you to do.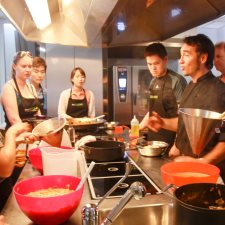 For example, at the Paella Club, in Ciutat Vella, you can be taught how to make an authentic paella, learn how to spread a good bread with tomato and wash it all down with a good cocktail. There are a variety of workshops and options to choose from!

In the Born, bcnKITCHEN organises workshops and private tastings led by a professional chef. Rice dishes, fideu noodles and creative cuisine are some of the most popular and, of course, after two hours of learning everything, you get to eat it all!

And if you prefer to experiment with market-fresh, healthy and creative cuisine, try La Patente's courses in the Eixample.

You can also get to know the Boqueria with Barcelona Cooking Classes, an activity that includes a guided tour where you can buy fresh, seasonal produce, together with a cooking workshop to prepare dishes with these ingredients.

Chocolate and beer
On the many outdoor terraces, on the busiest rooftops and on the beach, it is common to see people sipping a beer. Barcelona has two breweries you can visit. The first, the Antigua Fábrica Damm, near Hospital de Sant Pau, organises guided tours with tastings. The second, the Fábrica Moritz, is in the city centre, near the Sant Antoni Market, and also offers a guided tour with a tasting session.
If you come with children or are chocolate lovers, however, you can't miss the Museu de la Xocolata, in the Born neighbourhood. This museum offers a journey through the origins of chocolate. Needless to say, you'll have the opportunity to sample some, learn all the secrets of this sweet, and take part in workshops, including activities designed specifically for adults, such as pairing brandies, wines and beers with chocolate.
From the fields and the fish market to the plate
Every day, freshly caught fish arrives at Barcelona's fish market and is sold at auction. You can find out how one of the most unique spots in the port of Barcelona works and what it's like with the guided tour The Fishermen of Barceloneta.
Cap a Mar also organises activities related to the port and fishing. For example, you can become a fisherman for a day or the little ones can learn how to make fish handicrafts, among other possibilities.
And if you prefer to keep your feet on the ground, you can enjoy the From the Land to the Plate experience at the Solc restaurant in the Hotel Majestic. This will take you to the Maresme orchard where they obtain much of the raw material for the dishes and the activity includes a visit to the Alta Alella winery, where they make an exclusive wine for the restaurant.
Visits and meals rolled into one
How about not only having a great meal, but also getting to know the city better? There are several experiences that combine tourism and gastronomy. For example, if you are wearing sturdy shoes, essential for walking the streets of Barcelona, you can also opt to take the Gastronomy and Wine in Barcelona tour, where you will not only learn about the history of the city as you stroll through the Gothic quarter, you will also discover its relationship with food, with tapas and wine tastings in a number of different venues.
There is another experience in the Gothic Quarter that is especially appealing to opera lovers. At the Palau de la Balmesiana you can experience an architectural, gastronomic and musical evening that includes a guided tour and a menu inspired by various operas. Of course, while you sample the dishes you will be serenaded by professional artistes singing operatic arias.
And if you feel like seeing and experiencing Barcelona from the sea, there are plenty of activities to choose from. A more leisurely way to discover it is by enjoying breakfast or a snack on board a two-hour trip along the coast of Barcelona, or an aperitif on a yacht that includes a drink, snacks and seasonal fruit.

Wine culture
In Catalonia there are eleven wine designation of origin regions, in addition to the DO Cava, for sparkling wines, and just a short distance from the city is one of the most important and extensive, the DO Penedès. In fact, within Barcelona itself there are vineyards, at Can Calopa, in the Collserola Natural Park, which you can visit.
If you fancy going a little further afield, in the Penedès, less than an hour from Barcelona, there are many wine-related activities. Wine tasting, vineyard tours and walks through impressive historical and cultural heritage, as well as an opportunity to discover how Catalan wines and cavas are made.
You may be also interested