A taste of Christmas
02/11/2022
Traditional fare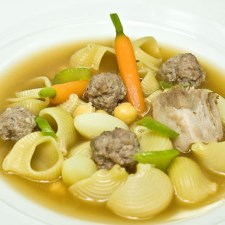 Escudella i carn d'olla
The whole family sits around the table to sample this typical dish which is the centrepiece of Christmas lunch. It consists of two courses: the escudella, a broth whose main ingredients are giant pasta shells, called galets, and carn d'olla, the meat cooked in the broth. The galet comes in different sizes but if you want make a traditional Christmas escudella, it's better to choose the biggest ones. Curiously enough, escudella has recently been chosen by the Catalans as their favourite dish. Could it be because of the galets?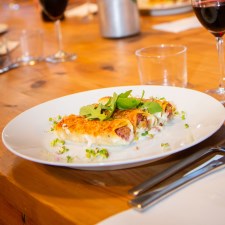 Cannelloni
Cannelloni are an essential dish on 26th December, Saint Stephen's Day. Success is guaranteed at the table for anyone who manages to master the recipe. Cannelloni are rolls of pasta stuffed with meat or another mixture and covered in béchamel sauce. They are usually served as a main course during lunch on 26th December, Saint Stephen's Day. According to tradition, they are filled with the left-overs from the escudella, but each household has its own special recipe which is passed down from generation to generation as one of the most zealously guarded family secrets.
Turrón
Every Christmas meal ends with the delicious sweet treat, turrón nougat. The Christmas sweet treat par excellence and guest of honour after the festive meals. Traditional torró is made from almonds, honey and eggs although it is produced in many different flavours and in soft or hard varieties. One thing's for sure, you'll be spoilt for choice! If you want to try it, you'll find all kinds of varieties at the confectioners and cake shops, La Colmena, Mauri and Vicens.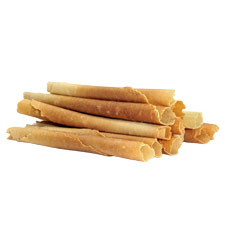 Neules
Tubular wafers, or neules, are the best accompaniment to a plate of turrón as people linger at the Christmas table. These elongated, cylindrical sweet wafers are the stars of the table after the Christmas meal. Made from flour, water and sugar they are usually washed down with a glass of cava or dessert wine. They are the perfect pairing with torró nougat and are the best way to help digest the Christmas fare. Don't forget to buy these delicious sweet treats when you visit the city's confectioners and cake shops.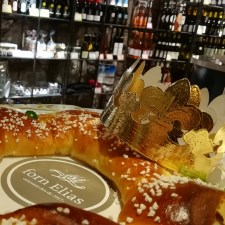 Tortell de Reis
The ring-shaped cake, the Tortell de Reis, marks the end of the Christmas celebrations. It's the favourite dessert of the youngest members of the household because it has surprises inside. It's a round or oval ring cake made from brioche dough, filled with marzipan and topped with candied fruit (cherries, oranges...) and nuts (pine nuts or chopped almonds), which is eaten for dessert on 6th January. At first sight it may look like just a cake, but don't be fooled by appearances, the Tortell de Reis has a secret inside. If you find a small figure of a king while you're enjoying your slice of cake, you'll get to wear the cardboard crown that comes with it, but if you find a broad bean you'll have to dig into your wallet and pay for the cake!
Cava
Cava is the Catalan sparkling wine par excellence and has its own protected geographical status. Its versatility makes it the perfect companion to every course of our Christmas meals (starters, mains, desserts...). If you want find out how wine and cava are made in situ, don't miss out on the opportunity to visit a winery.
Restaurants and hotels where you can have Christmas lunch and a New Year's Eve supper
The kitchens at the city's restaurants and hotels stay open and make the most of the season to prepare mouthwatering menus full of traditional Christmas dishes. You can sample specialities, such as escudella i carn d'olla, and cannelloni, and round off your meal with nougat, or turrón, and tubular wafers, known as neules, washed down with a glass of cava.
You may be also interested
Skip the line!

Skip the line!

Skip the line!

Skip the line!