Give the gift of Barcelona
There could be no better time of year to buy presents than Christmas. And Barcelona provides the perfect setting. The city's streets, boulevards and squares are decked out in all their finery with decorations showcasing cutting-edge designs and the city has a special warmth and a unique Christmas spirit. All over the city, you'll find streets crammed with all kinds of shops that invite you to stroll and do some window shopping, from Passeig de Gràcia, Rambla de Catalunya and Portal de l'Àngel to Carrer de Sants or the lanes in neighbourhoods of Gràcia, the Gothic Quarter and the Born. If you're looking for something more deeply rooted in tradition that epitomises the city, or want to put some of our tastiest delicacies on your Christmas table, here is a selection of shops that you're bound to come across as you explore the city. Shops that are truly unique, with their own distinctive, charming personality, and an offering that is synonymous with excellence and attentive, friendly service. Drop by and choose what you want!
Käthe Wohlfahrt
The magical world of Christmas in one shop
Step inside and immerse yourself in a magical world steeped in traditions. This is Barcelona's biggest Christmas shop, and looks like something out of a film, with cosy corners recreating Christmas scenes from around the world. It's an absolute must if you're looking for that special festive item for your home. You'll find everything from decorations for the tree to other gift ideas.
Serving up sweet traditions
We always round off traditional Christmas meals with delicious nougat, or turrón: the sweet treat made from almonds, honey and eggs. It also comes in different varieties, including chocolate, coconut, toasted egg yolk… You'll find turrón at some of Barcelona's traditional confectioners and cake shops, including Foix de Sarrià, La Colmena, Mauri,Triomf and Vicens.
Make sure you don't miss Barcelona's chocolate and sweet shops. Be Chocolat, Chocofiro and Papabubble are waiting to make your memories even sweeter.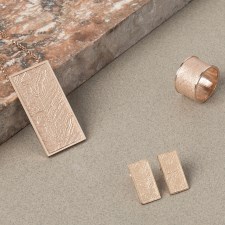 Unique jewellery with its own personality
If you're looking for a family-run jewellers where you can find unique pieces of jewellery, Comaposada Joiers is the right place. Its collections are inspired by the country's museum collections and art and architecture, including cubism, its home-grown art nouveau, modernisme, and Romanesque and Gothic styles.
All the pieces at Tass Joies are designed and made on the premises completely by hand. You'll find versatile and contemporary jewellery in different finishes and materials. Unique pieces with their own distinctive personality that reflect the essence of the Mediterranean.
Espai Micra is a studio and shop that invites you to discover the creative process in an intimate, personal way. A selection of personalised, unique pieces and limited editions.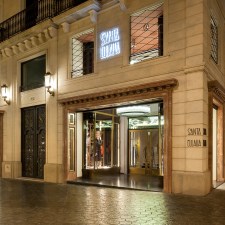 Santa Eulàlia
A historic fashion store
More than any other store, Santa Eulàlia has helped make Passeig de Gràcia into Barcelona's boulevard of luxury fashion. Founded in 1843 as a bespoke tailors, it now brings you collections by today's top designers, from Balenciaga to Jil Sander, and continues to set the benchmark in the world of fashion and good taste. Its location, opposite Gaudí's La Pedrera, can't be beaten.
Empremtes de Catalunya
Identity in sculptural form
Lovers of hand-crafted items simply can't miss this tiny universe where Catalan culture is transformed into unique and irresistible objects and art pieces. You'll find all kinds of artisan pieces, all made in Catalonia with love and care, which reflect and convey the values, customs and art of our region. A figurine of the Park Güell dragon, a devil reminiscent of Catalan festivals… You're sure to fall in love with them!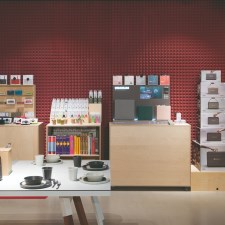 A world of design
If you're crazy about design, Cubiñá is the place for you. It specialises in design, interiors and makes and distributes furniture. Cubiñá is housed in the matchless setting of an iconic Catalan art-nouveau building, Domènech i Montaner's Casa Thomas. A visit to the store is an unforgettable experience.
At RS Barcelona 365 Concept Store you'll find a wide range of gift items, fashions and accessories. A great selection of brands made in Barcelona as well as world-renowned ones that all have one thing in common: design.
Queviures Múrria
A historic foodie haven
Artisan cheeses, smoked fish and meat, cured meats and sausages, caviar, olive oils, coffees, preserves, wines and champagnes... This food emporium brings you all the essential ingredients for your Christmas table. Múrria opened in 1898 and its Catalan art-nouveau, or modernista, exterior and interior are truly photo-worthy. It has won numerous awards, including the Catalan government's National Prize for Centennial Shops.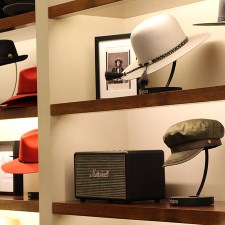 Casa de barrets Mil
Hats to suit every head
Hats are maybe only for the most daring of wearers, but once you don one of the hats from this emporium you won't want to take it off. Since 1917 it has been supplying Barcelona locals with fashionable, tailor-made and customised hats. It also has a charming workshop where you can see the hats being made by hand.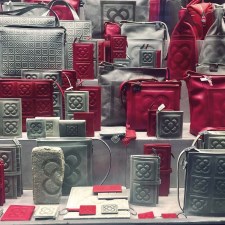 Calpa
Paving stones: from Barcelona to Gaudí
Leather goods designed by Calpa and hand-made in small workshops. You'll find bags and wallets embossed with the design of Barcelona's typical modernista paving stone, a symbol of the Catalan capital, as well as Gaudí's paving stone, one of the architect's most iconic designs.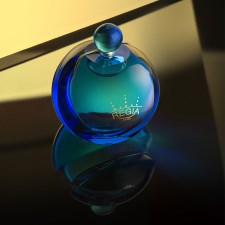 Regia
The story of perfume
Founded more than 75 years ago, Regia is one of Barcelona's time-honoured perfumiers. At the rear of the shop, you'll find the perfume museum, the Museu del Perfum, with its collection of more than 5,000 bottles that show how perfume has evolved across the centuries.
You may be also interested