Classical emotions, emotions on a plate
18/11/2019
Barcelona is a city of sensations or, rather, emotions. It is a city with its own personality that is also expressed through its food and its chefs. Here, signature cuisine never fails to surprise us. No seasoning is required. You're sure to come back for more. And you'll tell your friends about it. The same thing will happen when, seated in a darkened concert hall, you'll be moved by the sounds of your favourite composers. There's no denying the power of music. It makes you dream, it transports you… It stirs you. And Barcelona is one of the best cities in Europe where you can abandon yourself to the magic of rhythm.
Concert halls that are true wonders
Of all the arts, one stands out from the rest due to its ability to move us. We're talking about music: the art of combining sounds and melodies that are pleasing to us and awaken our emotions. It would be no exaggeration to say that Barcelona has a musical heritage to be truly proud of. Nowadays, the city is an obligatory port of call for the leading conductors, orchestras, soloists, sopranos and tenors from the world music scene. And this is all down to its commitment to bringing some of the world's finest composers to life... and its wonderful concert halls in particular that are part of the city's history and heritage.
The Palau de la Música Catalana, Palau de la Música Catalana is not only one of the jewels in the crown of Catalonia's home-grown art nouveau, modernisme, it is also a prestigious concert venue. Did you know that Lluís Domènech i Montaner's concert hall took under three years to build (1905 to 1908) and is the only one in the world to have been awarded UNESCO World Heritage status?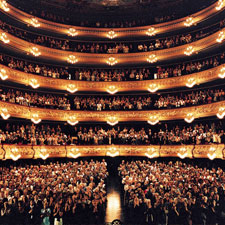 Replete with details, such as the floral motifs that decorate the auditorium, or its spectacular ceiling lantern, depicting the sun, the Palau de la Música Catalana is a true spectacle that is a treat for the eyes and ears.
The Gran Teatre del Liceu is another unmissable music venue and one of the biggest opera houses in Europe. It has become one of the city's most iconic landmarks and has hosted hundreds of opera and ballet productions and symphony concerts since the middle of the 19th century. Its location, halfway down La Rambla, makes it one of the city's most easily identifiable landmarks.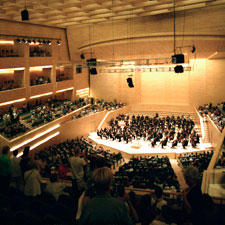 L'Auditori is another unmissable music venue, and the most modern one in the city. It has exceptional acoustics and hosts performances in every musical genre, from rock and pop to symphonic music and concerts by singer-songwriters, making it one of the key venues in Barcelona's musical life… and all within the space of 20 years! L'Auditori is also home to the city's music museum, the Museu de la Música, which features a permanent exhibition of some 500 musical instruments that will take you on a journey through the history of music. if you feel like visiting, don't forget to take a look at its magnificent collection of classical guitars, featuring instruments made by the great Antonio de Torres, who is considered the inventor of the modern guitar.
One of Barcelona's main attractions lies in the fact that you can enjoy music in many different formats, from festivals to classical and opera at a great choice of smaller venues.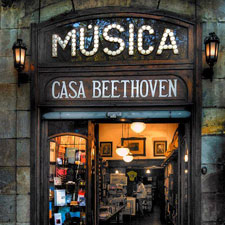 This is the case of the Museu Europeu d'Art Modern, housed inside the 17th-century mansion, the Palau Gomis, which showcases an extensive collection of contemporary figurative art but also hosts classical music concerts every Saturday evening. And if, in addition to listening to music, you are also a collector or performer, you can't miss the Casa Beethoven. Founded in 1880, it is a true haven for collectors, with a product catalogue that includes LPs, CDs, books on classical music, music boxes, gifts… and even original scores!
Do you want more? Here you can view the listings for the best classical music concerts and opera recitals!
The most creative cuisine for the most daring palates
Food can be as evocative as music. It awakens sensations and memories, particularly through its signature dishes that have triumphed in Barcelona in recent years. This type of cuisine, spearheaded by Ferran Adrià, has raised the city's profile around the world and been a rallying cry for young chefs. This, in turn, has led to the emergence of a variety of restaurants serving signature cuisine, including 22 that hold 30 Michelin stars between then. Do you want to enjoy some of them?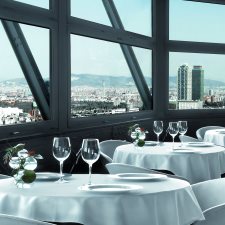 The creations at Cinc Sentits reinterpret classical Catalan dishes. Chef Jordi Artal has prepared a sensory journey through a tasting menu that, as the name of the restaurant suggests, will awaken all your senses in a beautiful setting that brings together the kitchen, dining room and cellar with wonderful delicacy of touch. If you want to enjoy wonderful views while you take your palate on a mouthwatering journey, the Torre d'Altamar is one of the options to bear in mind. Perched 75 metres above the city, the restaurant, run by chefs Albert Docet and Joan Martínez, will treat you to 360o views of the city, which you can enjoy while you sample some of its most creative, Mediterranean-inspired dishes.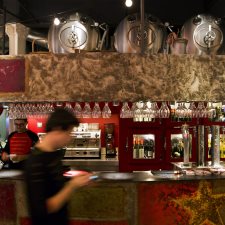 You can also enjoy signature cuisine in a smaller format. This is the mission of Lasarte, the holder of three Michelin star and Martín Berasategui's embassy in Barcelona. Let yourself be amazed by a constantly evolving gastronomic concept that interprets cooking in an original and innovative way.
Ferran Adrià's creative heirs extend beyond the family sphere. Mateu Casañas, Oriol Castro and Eduard Xatruch, former head chefs at El Bulli, opened the restaurant Disfrutar in 2004 and it has already earned two Michelin stars. It has been a runaway success and soon became one of Barcelona's essential eateries. This year it was named the world's ninth top restaurant. With its open kitchen, Disfrutar will surprise you with its bold tasting menu that includes dishes such as crunchy exploding olives or gelatine macaroni carbonara.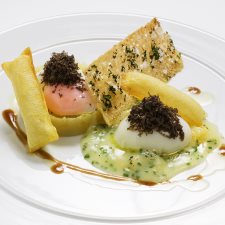 But don't think that signature cuisine is only about the most modern restaurants: Via Veneto has been amazing us for 50 years with dishes that seek to pay tribute to the past while looking to the future, and has become an iconic restaurant in Barcelona's uptown district. The restaurant was recently awarded the 2019 National Gastronomy Prize and was one of Dalí's favourites. It has the honour of being the restaurant in the city that has held its Michelin star for the longest period of time.
Finally, if you're looking for an option that will allow you to sample Michelin-starred dishes at a reasonable price, don't miss the set lunch menus at Romain Fornell's Caelis.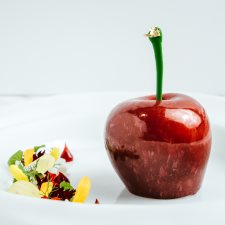 Serving dishes that are more international in style, Caelis has been reinterpreting tradition and striking a balance between passion and ground-breaking cuisine for 15 years. This explains why it has held a Michelin star since 2005.
You can see our full selection of Barcelona's signature-cuisine restaurants here. Whichever one you choose, we can guarantee you won't go away disappointed!
You may be also interested
5%online

Skip the line!

Skip the line!