Enjoy Barcelona /
Blog Enjoy Barcelona
/
Food & Drink
/
Delve into Barcelona's unknown architecture and the most authentic local flavours with a zero-carbon footprint
Delve into Barcelona's unknown architecture and the most authentic local flavours with a zero-carbon footprint
Anyone who has visited Barcelona knows about its amazing array of architecture featuring a series of iconic landmarks that have put the city firmly on the map of the world's most attractive destinations. Famous buildings, museums showcasing works of art in every style and from every period... But Barcelona also has an unknown architectural heritage, consisting of hidden gems that are well worth a visit. Would you like to discover them? Keep on reading and delve into the world of locally sourced food with our selection of the city's finest restaurants that use produce with a zero-carbon footprint and where you'll enjoy top-quality cuisine.
The most unknown side of the city's architectural heritage awaits!
It's a widely known fact that Barcelona has a world-famous architectural heritage. UNESCO has placed nine of the city's most important buildings on its World Heritage list, but Barcelona also has the good fortune to have a long list of less well-known, but equally spectacular, buildings that bring important added value to the city and are as unmissable as its most visited landmarks.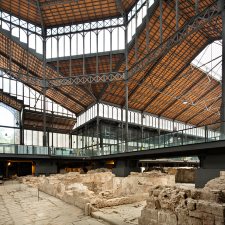 Did you know you can visit a treasure from Roman Barcelona tucked away in the heart of the Gothic Quarter? Inside a tiny medieval courtyard you'll find four columns from the ancient temple of Augustus, which bear witness to the city's Roman past and will take you straight back to that era. If you want to continue exploring the city's history, we recommend you lose yourself in the Palau de Requesens or Sant Pau del Camp, two charming, yet very different, medieval gems: the former is a private mansion where you'll be able to enjoy wonderful views of the city and sample a menu inspired by 14th- and 15th-century cuisine; the latter is a tiny Romanesque church, among the oldest in the city, where time stands still and the noise and bustle of the Raval district disappear. And you can't miss the Born Centre de Cultura i Memòria, which preserves the city's collective memory and features a spectacular architectural site and permanent exhibition showing what the city was like at the beginning of the 18th century. The 19th-century former market is now a memorable and moving place for reflection where you can learn more about the history of the Catalan nation.
If stately mansion are more your thing, we recommend a visit to the Casa Rocamora and Palau Baró de Quadras. Both buildings, dating from the early 20th century, have their own distinctive style that you will fall in love with at first sight. The Casa Rocamora, for instance, is a spectacular Isabeline-style mansion renowned for having one of the one of the city's most varied private art collections. The Palau Baró de Quadras is an amazing compendium of styles and eclectic décor: part neo-Gothic palazzo, part modernista-style apartment block, following its refurbishment by the architect Josep Puig i Cadafalch.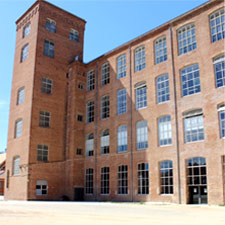 The elegant Casa de la Seda is another building you can't miss off your list. The only guild hall in Barcelona open to the public, it was built in the 18th century and was the headquarters of the silk sailmakers' guild. It was the envy of many at the time due to the beauty of its architectural design and exquisite sgraffito work on the façade. Finally, the city's repurposed industrial buildings are another of its architectural attractions. They include the former Fabra i Coats textile mill in the district of Sant Andreu that has become a multidisciplinary space and creative lab.
And there are many more like these to choose from: the Reial Acadèmia de Medicina, the Reial Acadèmia de Farmàcia and the Reial Acadèmia de Ciències i Arts, the Biblioteca Pública Arús, and the former factories of Can Ricart and Can Felipa...
A wonderful selection of buildings that will show you Barcelona's most unknown side!
Taste the genuine flavours of the land
Do you consider yourself a foodie? If so, you'll know how important it is to find restaurants where the most important elements – the raw ingredients – are locally sourced. This didn't use to be as easy as it is today. However, in recent years, the trends have shown that more and more people are opting for a cuisine made with local produce that contributes to sustainability and revives the most traditional produce. And there are a growing number of restaurants following this path!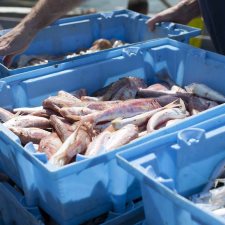 If fish or seafood are your foodie passion, you can't miss the menus at two restaurants: Can Ros and La Mar Salada, true temples to gastronomy where the flavours of the sea will transport you to a fishing boat out at sea. Both restaurants serve dishes made with fish straight from the Barcelona wholesale fish market, guaranteeing freshness and unbeatable quality.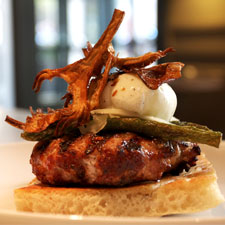 If you're more into meat dishes, you can't miss the restaurant Sagàs – Pagesos, Cuiners & Co . Renowned for their locally produced meat that will make your mouth water. At Sagàs they have chosen to follow the finger food philosophy: urban food designed to be eaten with the fingers using GM-free meat, and artisan sausages and cured meats.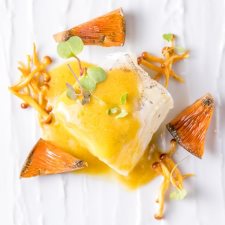 But if you're into all kinds of food and, above all, you like eating well, we have two more foodie tips for you: El Mercader de l'Eixample, housed inside a modernista building in the heart of Barcelona's Eixample district, has a menu that puts traditional Catalan cuisine made with organic ingredients in the spotlight and the Taverna Hoffman interprets time-honoured dishes in an innovative way, with tapas and chargrilled dishes as their main attractions.
Whatever restaurant you choose, we can guarantee one thing: you'll be taken on an unequalled gastronomic experience that will leave you hungry for more!
You may be also interested