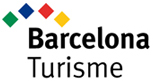 The Turisme de Barcelona Consortium was set up in 1993 by Barcelona Municipal Council, the Barcelona Official Chamber of Commerce, Industry and Shipping and the Barcelona Promotion Foundation. The Consortium works to promote the city as a tourist destination. Our different lines or programmes feature a range of products geared to the travel trade and individual tourists. Passatge de la Concepció, 7-9
08008 Barcelona
Tel. 932 853 834

Contact/Suggestions
Tell us what you think about our website. We welcome all your comments and suggestions. Please use the form below:


This spring in Barcelona
The spring is the perfect time to take a stroll through the streets and enjoy the cuisine and open-air activities.  Here are a few suggestions:
But there's much, much more! Walk through the parks, discover the beaches, visit a museum or take a short trip out of town... 
Barcelona welcomes you to...