Places of interest selected
Casa Museu Gaudí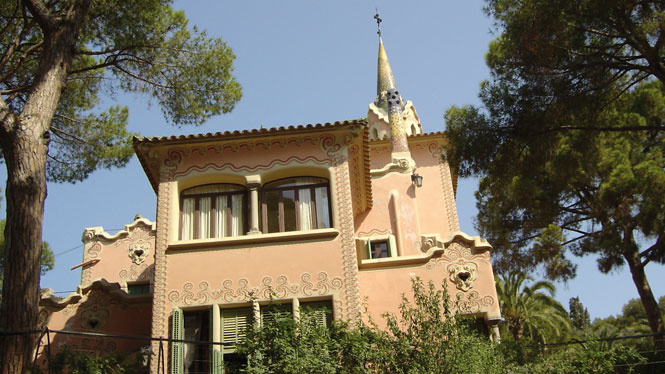 The Casa-Museu Gaudí was built in 1904 as a show house in the Park Güell which was originally designed as a garden-city in Barcelona. Gaudí made it his home, and it still contains some of his personal objects and mementoes.
The Gaudí House Museum was the home of the architect Antoni Gaudí i Cornet (1852-1926) from 1906 until 1925. It was built as a show house for the Park Güell development scheme and designed by Francesc d'Assís Berenguer i Mestres (1866-1914), the architect's friend and right-hand man.
It opened to the public as the Gaudí House Museum on 28th September 1963. Since 1992 it has been owned by the Fundació Junta Constructora del Temple Expiatori de la Sagrada Família, which has restored the house to give us an insight into Gaudí's life and work and what it was like when he lived there.
Gaudí's house
The Gaudí House Museum currently features an exhibition designed to give visitors an insight into Gaudí's world recreating some of his private rooms and displaying his personal items. It also includes an audiovisual exhibit.
Gaudí designer
The original furniture on display inside the Gaudí House Museum comes from the Casa Calvet, the Casa Batlló and the crypt of the Colònia Güell and gives us a glimpse into the way the architect's designs evolved. Gaudí's creativity and ability to innovate can also be seen in the objects on display in the garden, including the wrought iron railings from the Casa Vicens and the Casa Milà, and the cross from the Miralles estate.
Back to index
General details
Address:
Carretera del Carmel, 23A (Park Güell) (08024). Barcelona
Phone:
932 080 414
Web site:
www.casamuseugaudi.org
Opening time:
October - March: daily, from 10am to 6pm. | April - September: daily, from 9am to 8pm. | January 1st and 6th, December 25th and 26th: from 10am to 2pm.
Back to index
Accessibility details

The park Güell is home to the Casa-museu Gaudí, the architect's former residence. It is accessible via a stone ramp set at a gradient of between 12 and 14%. The interior of the building isn't fully accessible, but it can be viewed from the outside. Wheelchair visitors can visit the ground floor if assisted. Admission is free as there is no lift allowing access to the other floors.
Last update: 01/08/2023
Back to index
Booking
Purchase on-line.
BCN Shop
: Virtual shop run by Turisme de Barcelona where you can purchase tourist products and services.
Back to index
Send your comment about this information (will not be published)
Back to index