Museu del Modernisme de Barcelona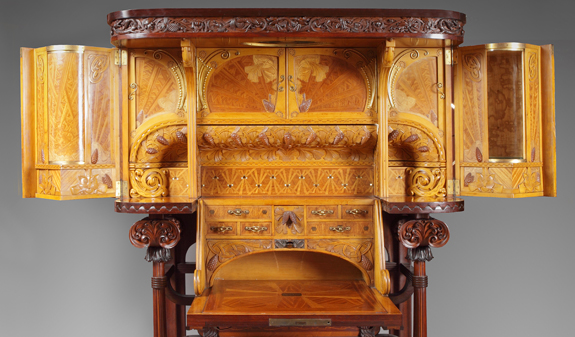 The new Museu del Modernisme opened in 2010. It is housed in a former textile factory in the centre of Barcelona, and offers visitors the chance to enjoy a cultural centre dedicated exclusively to modernista art.
The holdings of the new Museu del Modernisme de Barcelona (MMCat) come from the private collection that two Barcelona antique dealers, Fernando Pinós and María Guirao, have amassed during their 40 years in the business. The museum is dedicated exclusively to Catalonia's home-grown art-nouveau movement, modernisme. The collection on shows consists of 350 works by 42 of the most representative modernista artists, including Joan Busquets, Ramón Casas, Antoni Gaudí, Gaspar Homar, Josep Llimona, Joaquim Mir and Puig i Cadafalch, in their different disciplines: painting, sculpture, furniture and the decorative arts.
To mark the museum's second anniversary,  new exhibits to further the work in the conservation and dissemination of modernisme have been added. The new exhibits include works by cabinetmakers and interior designers, such as the Busquets, Gaspar Homar, Francesc Jevellí and Antoni Gaudí; sculptures by Enric Clarasó, the Oslé brothers and the Masriera and Carreras studio. Other highlights include paintings by Ramon Casas, Joaquim Mir, Martí Alsina, Pere Borrell and other artists.
The Museu de Modernisme Català is housed in a centrally located modernista building designed by the architect Enric Sagnier. The Catalan vaults were restored and the original flooring on the ground floor preserved as part of the refurbishment project to house the museum. It has a floor space of 1,000m2. The top floor of the MMCat showcases the furniture and decorative arts and has a room dedicated to Antoni Gaudi. The ground floor displays paintings, sculptures and stained glass.
Back to index
General details
Address:
Carrer de Balmes, 48 (08007). Barcelona
Phone:
932 722 896
Web site:
www.mmcat.cat
Opening time:
Monday to Friday, from 10.30am to 2pm and 4pm to 7pm. Saturday,from 10.30am to 2pm. Sunday and public holidays, closed.
Back to index
Accessibility details
This museum has no architectural barriers. The building is wheelchair accessible.
Reduced rate for disabled card holders.
Guide dogs are welcome.
Guided tours for visitors with special needs can be arranged (prior registration necessary)
Information and signs in several languages.
There is a small cafeteria on the ground floor, modernist style and with a self-service coffee machine.
If you have any questions concerning accessibility, please contact: Gema Losa, tel. 932 722 896 or
mmcat@mmcat.cat

Visually impaired visitors can touch some original artworks, such as sculptures, furniture, etc.



Video subtitled in Catalan, Spanish and English.


Car park: There are two parkings near the museum with reserved and signed spaces for people with reduced mobility.

Entrance: The entrance is flat and accessible. The door (200 cm wide) is glass, automatic and sliding.

Recepció: The reception desk is 120 cm high.

Lift: The lift door measures 90 cm. Holds 6 people. Handrails and button panels in relief and braille.

Mobility inside the museum: Disabled visitors can get around the museum without any difficulties.
There are seats in the exhibition rooms.
Wheelchair on loan at the reception.

Toilet: There is an adapted toilet on the ground floor. The door measures 91 cm wide. There is a fold-down grab bar on the right side on the cubicle and a fixed grab bar on the left. Free space under the wahsbasin. Single-lever mixer taps.
Last update: 02/12/2014
Back to index
Booking
Call Center
Service providing personalized tourist information about Barcelona in several languages, by phone, fax and e-mail. We'll be glad to help you to book and buy tickets for tours, shows or other.
Phone: (34) 932 853 832, Monday to Friday from 8 am to 8 pm
Fax: (34) 932 853 831
E-mail:
infoaccess@barcelonaturisme.com
Purchase on-line.
BCN Shop
: Virtual shop run by Turisme de Barcelona where you can purchase tourist products and services.
Back to index
Send your comment about this information (will not be published)
Back to index