Museu Marítim de Barcelona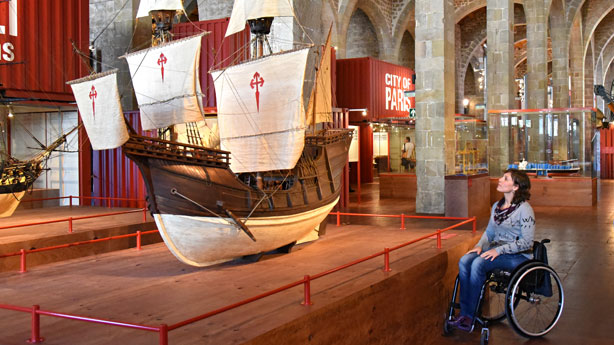 The Museum Marítim is located by the waterfront in one of Barcelona's finest landmark buildings: the Reials Drassanes, the medieval shipyards which are a unique example of civic Gothic architecture.
The Maritime Museum of Barcelona, which has been gathering an important collection of exhibits since 1929 that illustrate Catalan seafaring culture and help to understand the how and why of the country's maritime history, has recently expanded its cultural offerings with the opening of Baluard Gardens and Santa Madrona Door.
Through spectacular recreations, visitors can immerse themselves in the fascinating world of navigation and view the museum's collections of model ships, nautical instruments, ex-votos, seascapes, figureheads, and maps. The highlights of the museum's permanent collection include the full-scale replica of the Royal Galley used by Juan of Austria Austria who took part in the Battle of Lepanto (1571) and the historic schooner Santa Eulàlia, a three-masted, 46-meter-long vessel dating from 1918, which is moored in Barcelona's harbor.
Back to index
General details
Address:
Avinguda de les Drassanes, s/n (08001). Barcelona
Phone:
933 429 920
Web site:
www.mmb.cat
Opening time:
Daily, from 10am to 7pm. | Closed: January 1st and 6th, December 25th and 26th.
Back to index
Accessibility details
Barcelona's Museu Marítim is permanently adapted for disabled visitors. It has no architectural barriers and also offers tactile models and exhibits, audioguides in several languages, sign language guides and adapted educational materials. The museum also hosts some accessible temporary exhibitions and workshops on accessibility and disability. If you have any questions concerning accessibility, please contact Teresa Soldevila - Social Responsibility Tel: 933 429 920
soldevilagt@diba.cat

The permanent exhibition at the Museu Marítim has two tactile models of the building with Braille and print labels, and a plan in relief.
Visitors can touch a tactile model of the architectural ensemble of Barcelona's Medieval Shipyards and a second model of the Gothic ships. These resources can be used freely by any visitor. No special permission is needed.
The museum also has an audioguide in several languages although it isn't audiodescribed.
Visitors are allowed to touch many of the museum exhibits (mainly the ships and tools).
The museum staff have been trained in interpreting the temporary and permanent displays for visually impaired visitors.
The adapted temporary exhibitions offer information in Braille and large print.
The Centre de Recursos Educatius del Mar is a resource centre that offers adapted educational activities and materials, such as small models and other tactile elements.





The museum has hand-held sign language guides featuring information in Catalan sign language (LSC) and Spanish sign language (LSE) for deaf people and the hearing impaired. The guide also has subtitles in Catalan and Spanish.


The Museu Marítim has no architectural barriers that impede access for people with mobility problems, despite the steep ramp leading to the entrance.
The museum has two wheelchairs that can be loaned to visitors that require them.
There are adapted toilets in the museum and the café-restaurant.
There is a stairlift platform for wheelchair users to access the life-size replica of the galley captained by John of Austria at the Battle of Lepanto.


The Museu Marítim holds scientific and educational workshops about learning impairment and other disabilities.
Last update: 10/12/2019
Back to index
Booking
Call Center
Service providing personalized tourist information about Barcelona in several languages, by phone, fax and e-mail. We'll be glad to help you to book and buy tickets for tours, shows or other.
Phone: (34) 932 853 832, Monday to Friday from 8 am to 8 pm
Fax: (34) 932 853 831
E-mail:
infoaccess@barcelonaturisme.com
Purchase on-line.
BCN Shop
: Virtual shop run by Turisme de Barcelona where you can purchase tourist products and services.
Back to index
Send your comment about this information (will not be published)
Back to index