MACBA - Museum of Contemporary Art of Barcelona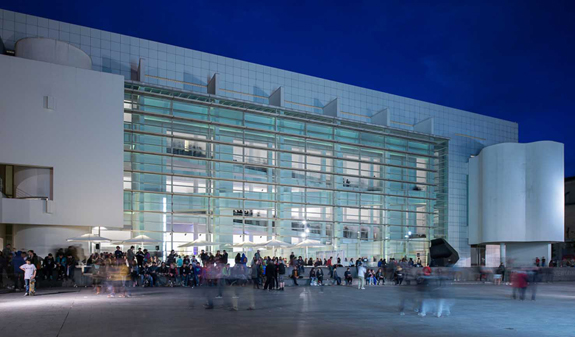 Located in the centre of Barcelona's historic old town, the MACBA-Museum of Contemporary Art of Barcelona, has more than 20,000 m2 of floor space showcasing contemporary creativity. Its programme explores the visual arts, performance, dance, film, music, events and includes pioneering educational activities.
The MACBA's programme of events explores the most complex visions of contemporary art in a space that is open to the exchange of ideas and experimentation set out around a landmark cultural plaza that includes a Gothic chapel and the iconic museum building designed by Richard Meier.
Come and experiment with new ways of experiencing contemporary art. The Touch Art space, daily tours which are included in the admission price, and the augmented reality app will make your visit a memorable experience.
After your visit we invite you to "Ravalejar!" Ask for our map of the Raval district when you buy your ticket and discover a multicultural, young and dynamic neighbourhood with a wide variety of cultural attractions, shops, bars, restaurants and entertainments.
If you're interested in art museums, don't miss the Articket, the pass providing skip-the-line admission to Barcelona's 6 top art museums. Valid for 12 months with savings of 45%.

Back to index
General details
Address:
Plaça dels Àngels, 1 (08001). Barcelona
Phone:
934 813 368
Opening time:
Monday to Friday, from 11am to 7.30pm. | Saturday, from 10am to 8pm. | Sunday and public holidays, from 10am to 3pm. | Closed: Tuesday, 1st January and 25th December.
Back to index
Accessibility details
The MACBA
has no architectural barriers. Wheelchair-accessible building
.
The museum works on barrier-free accessibility in all areas and provides inclusive education programmes for visitors with special needs.
Staff trained in assisting visitors with disabilities.
Wheelchair hire available, as well as sticks and portable seats. Ask at reception.
Free Wi-Fi throughout the museum.
Guide and assistance dogs are allowed throughout the building.
Accessibility enquiries and reservation of adapted visits: Tel 934 121 413 or
educació@macba.cat
For further information
visit the museum website

The museum regularly schedules adapted visits for blind and visually impaired visitors, including tactile elements and audiodescription.
Some of the pieces exhibited in the museum have a tactile reproduction.
There is a version of the brochure of the museum in large print and Braille.
Loan of magnifying lenses for visitors who request it at reception.






The museum regularly schedules adapted visits with an interpreter in sign language.
Magnetic loop available to people who request it.



The MACBA has no architectural barriers and is suitably adapted for wheelchair users. The museum has three floors which are connected by gently sloping ramps and spacious lifts.

Entrance and reception:
There is a ramp leading up to the main entrance. It is almost 40 m long, 4.5 m wide and is set at a 2.5% gradient.
The main door is made of glass and opens outwards. It has a clear opening width of 120 cm. The reception desk is 81 cm high.

Mobility inside the building:
Disabled visitors can get around the museum without any difficulties.
The areas inside and galleries are wide enough to get around and manoeuvre with a wheelchair. The flooring is level.
The display cases are between 73 and 105 cm high.
There are seats and rest areas throughout the building.

Toilets:
There are adapted toilets on all floors.
The cubicle door opens inwards and is 82 cm wide. There is a fold-down grab bar on the left of the toilet and a fixed bar on the right.
There is space under the washbasin to provide wheelchair users with frontal access.


The museum offers adapted visits for people with learning difficulties.

Last update: 15/06/2023
Back to index
Booking
Purchase on-line.
BCN Shop
: Virtual shop run by Turisme de Barcelona where you can purchase tourist products and services.
Back to index
Send your comment about this information (will not be published)
Back to index