Museu Can Framis. Fundació Vila Casas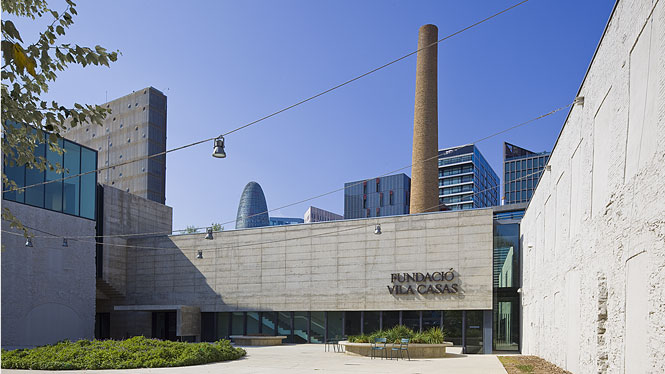 Can Framis, a factory built at the end of the 18th century, was originally owned by the Framis family. Over the years it fell into disuse, becoming a monument to the industry of the area.
Currently a museum of contemporary painting, it houses the picture collection of the Fundació Vila Casas. It has around 300 works on show dating from the 1960's onwards by a wide range of artists born or living in Catalonia. Temporary exhibitions are held at the Can Framis Espai A0.
The restoration project and museum were designed by the BAAS Arquitectes practice, which has been awarded a number of prizes, including the 2009 City of Barcelona Architecture and Urban Design Prize. The architectural ensemble is set among gardens: an oasis that contrasts the human scale of the 19th-century building with the monumental contemporary architecture.
Back to index
General details
Address:
Carrer de Roc Boronat, 116-126 (08018). Barcelona
Phone:
933 208 736
Web site:
www.fundaciovilacasas.com
Opening time:
Tuesday to Saturday, from 11am to 6pm. Sunday, from 11am to 2pm. | Closed: public holidays, Easter week and August.
Back to index
Accessibility details
Can Framis
has no architectural barriers. Wheelchair-accessible building
.
Guide and assistance dogs are allowed throughout the building.
Wheelchair hire available, as well as sticks and portable seats. Ask at reception.
Accessibility enquiries and reservation of adapted visits
: Tel 933 208 736 or
canframis@fundaciovilacasas.com

Can Framis has no architectural barriers and is suitably adapted for wheelchair users.

Entrance and reception:
The entrance on Carrer Llacuna has 2 ramps 7 meters long and are set at a 6% gradient.
The reception desk is 113 cm high.

Mobility inside the building :
Disabled visitors can get around the museum without any difficulties.
The areas inside and galleries are wide enough to get around and manoeuvre with a wheelchair. The flooring is level.
There are seats and rest areas throughout the building.

Toilets:
There are adapted toilets on the ground floor and the first floor.
The cubicle door opens inwards and is 75 cm wide. There is a fold-down grab bar on the right of the toilet and a fixed bar on the left.
There is space under the washbasin to provide wheelchair users with frontal access.


Last update: 23/08/2018
Back to index
Booking
Call Center
Service providing personalized tourist information about Barcelona in several languages, by phone, fax and e-mail. We'll be glad to help you to book and buy tickets for tours, shows or other.
Phone: (34) 932 853 832, Monday to Friday from 8 am to 8 pm
Fax: (34) 932 853 831
E-mail:
infoaccess@barcelonaturisme.com
Purchase on-line.
BCN Shop
: Virtual shop run by Turisme de Barcelona where you can purchase tourist products and services.
Back to index
Send your comment about this information (will not be published)
Back to index