Museu Etnològic i de Cultures del Món - Montcada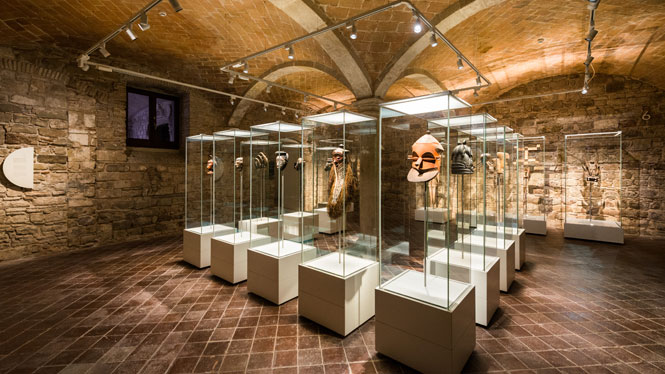 The Casa del Marquès de Llió and the Casa Nadal on Carrer Montcada, in the heart of the Born district, house a new Barcelona museum that provides an insight into the cultural and artistic diversity of Africa, Asia, America and Oceania.
The Museu Etnològic i de Cultures del Món is the result of a passion for collecting and knowledge of other cultures. The museum seeks to preserve, restore and make accessible objects of incalculable cultural value in order to disseminate the artistic wealth and ethnic heritage of non-Western countries.
The museum has worked in association with other public and private art collections throughout the world to bring together a display of highly valuable pieces from countries and islands including New Zealand, the Marquesas Islands, Tonga and Rapa Nui.
Back to index
General details
Address:
Carrer de Montcada, 12 (08003). Barcelona
Phone:
932 562 300
Web site:
http://museuculturesmon.bcn.cat/
Opening time:
May-September: Tuesday to Sunday and public holidays, from 10am to 8pm.
October-April: Tuesday to Saturday, 10am to 7pm. Sunday and public holidays, from 10am to 8pm.
Closed: 1 and 6 January, 1 May, 24 June, 25 and 26 December.
Back to index
Accessibility details
The museum has no architectural barriers. The building is wheelchair accessible.
The museum staff have received special training in assisting disabled visitors.
There is a free app for Android and IOS which you can download from the Apple Store or GooglePlay. It features a selection of itineraries so visitors can take a self-guided tour of the museum's main exhibits. You can also hire a multimedia audioguide with the same content but it is not included in the admission price. Both guides feature audiodescription, subtitles and sign language. Languages: English, Catalan, Spanish and French (audiodescription and subtitles); Catalan and Spanish (sign language).
Guide and assistance dogs are allowed throughout the premises.
For enquiries about accessibility and advanced bookings for adapted visits: Tel. 932 562 300 or email
museuculturesmon@bcn.cat

There is a relief plan showing the location of the galleries in the lobby, printed in ink and Braille.
The signage of the different areas (toilets, lecture theatre, classroom) is in Braille.
Folder with a map and guide to the permanent collection. It is easy to read and published in large print and Braille. It can be borrowed from reception. Available in Catalan and Spanish.
Audioguide with audiodescription (60 minutes).






Induction loop in reception and the lecture theatre.
Audioguide with subtitles and sign language (60 minutes).



How to get there by public transport :
All TMB buses are wheelchair accessible.
There are three metro stations near the museum. Arc de Triomf (L1) and Liceu (L3) are wheelchair accessible but Jaume I (L4) does not have a lift.

Entrance:
The museum has step-free access.

Reception: The reception desk is dual height: 80 cm and 115 cm.

Mobility inside the museum:
Wheelchair-hire service. Enquire at reception.
The interior of the museum is easy for wheelchair users to move around. The galleries are spacious and there is enough room between the exhibits for wheelchair users.
The museum has non-slip flooring.
There are seats in the galleries where visitors can rest.
Lifts:
The museum has two lifts. One of them has doors that are 91.5 cm wide. Interior dimensions: 142 cm wide and 141 cm deep. They can hold 4 people. The button panels are placed at a height of 100 cm.
The other lift has a door that is 110 cm wide and another that is 80 cm wide. Interior dimensions: 140 cm wide and 290 cm deep. It can hold 13 people.

Toilets:
There are adapted toilets on the ground floor. The cubicle door is 84 cm wide. There is a fold-down grab bar on each side. Push-button taps. The washbasin is at a height of 83 cm and there is space underneath to provide wheelchair users with frontal access.
There are baby-changing facilities.
Shop:
The shop has no architectural barriers and offers step-free access. Wheelchair users can move around easily.


Last update: 25/06/2015
Back to index
Booking
Call Center
Service providing personalized tourist information about Barcelona in several languages, by phone, fax and e-mail. We'll be glad to help you to book and buy tickets for tours, shows or other.
Phone: (34) 932 853 832, Monday to Friday from 8 am to 8 pm
Fax: (34) 932 853 831
E-mail:
infoaccess@barcelonaturisme.com
Purchase on-line.
BCN Shop
: Virtual shop run by Turisme de Barcelona where you can purchase tourist products and services.
Back to index
Send your comment about this information (will not be published)
Back to index