MUHBA - Museu d'Història de Barcelona - El Call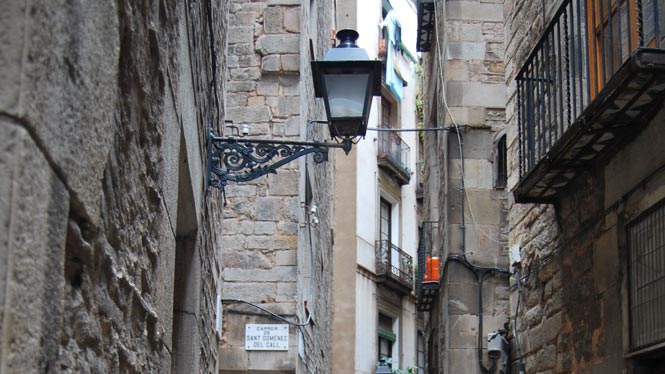 The building that was once a veil weaver's house is now the home of a branch of the city's history museum, the MUHBA, in the old Jewish Quarter, El Call. Its purpose is to provide an insight into the major contributions made by this community during the Middle Ages.
The MUHBA in El Call showcases everyday objects from the 13th and 14th centuries, found during archaeological digs in the area. Noteworthy exhibits include Khanukiyyes, dishes with Hebrew characters, and a facsimile of the illustrated manuscript, the Sarajevo Haggadah, produced in the Catalan region, which depicts 15th-century scenes, and two tombstones with Hebrew inscriptions.
The first floor holds temporary exhibitions that reflect the importance of Barcelona's Jewish Quarter in medieval Judaism.
The MUHBA El Call also offers a series of activities, including guided tours of the Jewish Quarter, mornings in El Call (walks and discussions about medieval Barcelona and the Jewish community), talks by Hebrew experts, tastings of Catalan-Jewish dishes and Jewish storytelling sessions.

Back to index
General details
Address:
Placeta de Manuel Ribé, s/n (08002). Barcelona
Phone:
932 562 100
Web site:
www.museuhistoria.bcn.cat
Opening time:
Wednesday, from 11am to 2pm. Sunday, from 11am to 3pm and from 4pm to 7pm. | Closed: January 1st, May 1st, June 24th and December 25th.
Back to index
Accessibility details
The Centre d'Interpretació del Call is fully accessible for wheelchair users.
Visually and hearing-impaired visitors can book a guided tour, two or three days in advance: Tel: 932 562 122 (Monday-Friday, 10am-2pm and 4pm-7pm) or mail
reservesmuhba@bcn.cat
The Centre also hosts a large number of lectures.

The Centre offers sign language interpretation for all its activities, and also has FM wireless equipment for guided tours. These must be requested in advance by phone or e-mail.


The Centre is fully wheelchair accessible. There is a lift to the first floor and the building has adapted toilets.
Last update: 18/08/2023
Back to index
Booking
Purchase on-line.
BCN Shop
: Virtual shop run by Turisme de Barcelona where you can purchase tourist products and services.
Back to index
Send your comment about this information (will not be published)
Back to index