Places of interest selected
Museu dels Autòmats del Tibidabo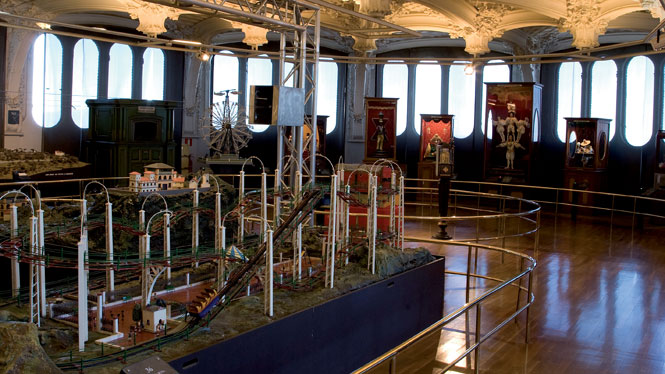 The Museu dels Autòmats, housed in an old theatre built in 1909, showcases a collection of automata from around the world.
This curious museum in the Tibidabo Amusement Park features examples of automata spanning the late 19th to the early 20th centuries, as well as the latest acquisition: the "Gaüs Brothers" or "World Balancing Act", a finalist in the automata competition at the 2005 Expo held in Aichi, Japan.
The museum also features coin-operated figures that were a common sight in fairgrounds throughout Europe, as well as vintage mechanical games and toys which were used to keep children entertained. The museum collections are considered to be among the best in the world, particularly due to the fact that they are in such good repair.
Back to index
General details
Address:
Parc d'Atraccions del Tibidabo (08035). Barcelona
Phone:
932 117 942
How to get there:
Tibibus from Plaça Catalunya | FGC L7-Avinguda Tibidabo + bus 196 + Funicular del Tibidabo | FGC S1/S2-Peu de Funicular + Funicular de Vallvidriera + bus 111.
Web site:
www.tibidabo.cat
Opening time:
According to the opening hours of the park.
Back to index
Booking
Call Center
Service providing personalized tourist information about Barcelona in several languages, by phone, fax and e-mail. We'll be glad to help you to book and buy tickets for tours, shows or other.
Phone: (34) 932 853 832, Monday to Friday from 8 am to 8 pm
Fax: (34) 932 853 831
E-mail:
infoaccess@barcelonaturisme.com
Purchase on-line.
BCN Shop
: Virtual shop run by Turisme de Barcelona where you can purchase tourist products and services.
Back to index
Send your comment about this information (will not be published)
Back to index