Funeral Carriage Collection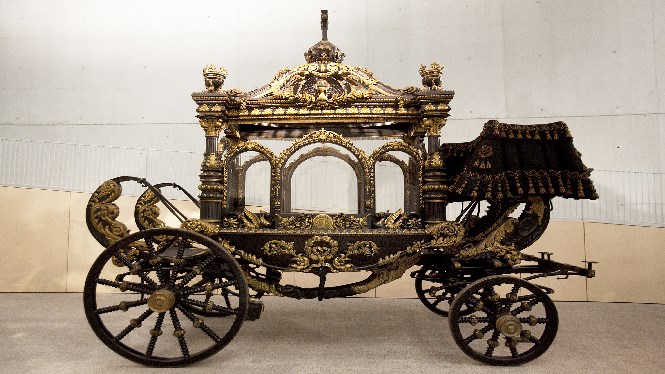 Barcelona can boast of one of the most unusual religious museums in Europe.
The Collection of Hearses was created in 1970 and is formed by nineteen original pieces: thirteen funeral carriages, six carriages used in funeral processions, and three motorised vehicles. It is the only collection of its kind in Europe. A valuable artistic and cultural heritage that helps us understand how our forebears carried their dead to the cemetery and how they adapted to the new funeral customs during the period spanning the 19th and most of the 20th centuries. Visitors are taken back to the neoclassic Barcelona of the mid-19th century as a result of complementary virtual information.
The collection seeks to further our knowledge and understanding of funeral rites and carriages and their uses and symbolism, while looking at death in a natural, accessible and educational way.
The library contains more than 2,000 books about funerals. It is the most important one of its kind in Spain and the second most important in Europe. The volumes help us understand the funeral rites practised by different civilisations from prehistoric times to the present day, with particular emphasis on the Egyptian civilisation. Access by appointment only.
Guided tours every Saturday at 12 noon (Catalan). More information on www.cbsa.cat
Back to index
General details
Address:
Carrer de la Mare de Déu de Port, 56-58 (08038). Barcelona
Phone:
934 841 999
Web site:
www.cbsa.cat
Opening time:
Saturday and Sunday, from 10am to 2pm.
Back to index
Accessibility details
SORRY! INFORMATION NOT AVAILABLE YET.
Last update: 15/12/2014
Back to index
Booking
Call Center
Service providing personalized tourist information about Barcelona in several languages, by phone, fax and e-mail. We'll be glad to help you to book and buy tickets for tours, shows or other.
Phone: (34) 932 853 832, Monday to Friday from 8 am to 8 pm
Fax: (34) 932 853 831
E-mail:
infoaccess@barcelonaturisme.com
Purchase on-line.
BCN Shop
: Virtual shop run by Turisme de Barcelona where you can purchase tourist products and services.
Back to index
Send your comment about this information (will not be published)
Back to index