Museu de Ciències Naturals de Barcelona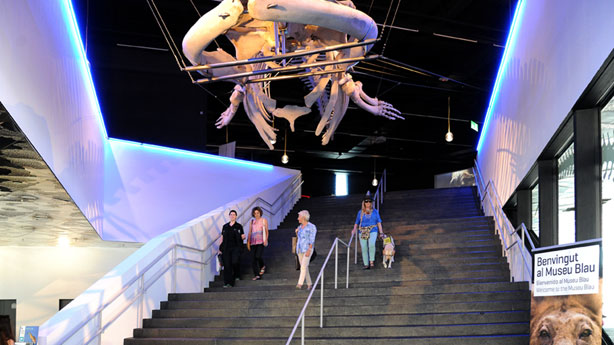 The Museu de Ciències Naturals de Barcelona now has new premises in a building in the Forum precinct, by the sea and the Besòs river, designed by the architects Herzog & De Meuron.
The museum features the permanent exhibition Planet Life, which traces the history of the evolution of life and the Earth, from its origins, and shows us what it is like today. Using the latest display technologies, the museum showcases part of the zoology, geology and botany collections that the Museu de Ciències Naturals de Barcelona has preserved throughout its 132-year history. In addition to this valuable heritage, the museum will be a major facility covering a surface area of 9,000 m2 with space for temporary exhibitions and educational and informative activities. It will also have a mediatheque, restaurant and shop.
The exhibition Planet Life, which takes up 3,000 m2 of the museum, is organised in three sections. The first, entitled Gaia's Biography, will give us an insight into the history of life on our planet from the origins of the Earth to the present day. The second, Present-day Earth, shows us our planet as it is today through the vibrant and diverse world of fossils, animals, plants, rocks, minerals, fungi, microbes and seaweed. The third, Laboratories of Life, complements the visit by looking at various topics associated with nature and its relationship with human beings..
Back to index
General details
Address:
Plaça de Leonardo da Vinci, 4-5 (Edifici Fòrum) (08019). Barcelona
Phone:
932 566 002
Web site:
www.museuciencies.bcn.cat
Opening time:
October - March: Tuesday to Friday, from 10am to 6pm. Saturday, from 10am to 7pm. Sunday and public holidays, from 10am to 8pm. | April - September: Tuesday to Saturday, from 10am to 7pm. Sunday and public holiday, from 10am to 8pm. | Closed: January 1st, May 1st, June 24th and December 25th.
Back to index
Accessibility details
The accessibility project for the Museu Blau, which started in 2011, continues to extend and improve the services and resources it offers people with disabilities.
The museum staff have received special training in assisting disabled visitors.
The building is free of architectural barriers and offers guided tours adapted to the needs of visually and hearing-impaired visitors. For bookings, contact
museuciencies@bcn.cat

The building has accessible signage for visually impaired visitors, including a tactile plan.
There are information leaflets about the museum in large print and Braille. The main exhibition "Planeta Vida" (Life Planet) has a total of 17 interactive tables, with 50 tactile elements and panels in large print and braille. There is an audioguide for visually impaired visitors about the museum as a whole and its centrepiece exhibition "Planet Life".
The museum also runs free guided tours for visually impaired visitors (maximum eight people plus companions). They are introductory tours of the museum that offer an educational overview of the "Planet Life" exhibition, focusing particularly on the section "The Earth Today".






The Museu Blau has magnetic induction coils in the events room and an induction loop at the main information desk.
Guided tours of the museum are available in sign language.
These tours also include an introduction to the museum and a visit to the "Planet Life" exhibition. Group size is limited to ten people.



The museum can be reached by accessible public transport (metro, tram and bus). Parking is available at the Forum Building and also at the Diagonal Mar shopping centre.

The building is totally accessible and there are adapted toilets. Wheelchair on loan available for visitors.


Last update: 07/09/2016
Back to index
Booking
Call Center
Service providing personalized tourist information about Barcelona in several languages, by phone, fax and e-mail. We'll be glad to help you to book and buy tickets for tours, shows or other.
Phone: (34) 932 853 832, Monday to Friday from 8 am to 8 pm
Fax: (34) 932 853 831
E-mail:
infoaccess@barcelonaturisme.com
Purchase on-line.
BCN Shop
: Virtual shop run by Turisme de Barcelona where you can purchase tourist products and services.
Back to index
Send your comment about this information (will not be published)
Back to index