MUHBA - Museu d'Història de Barcelona - Plaça del Rei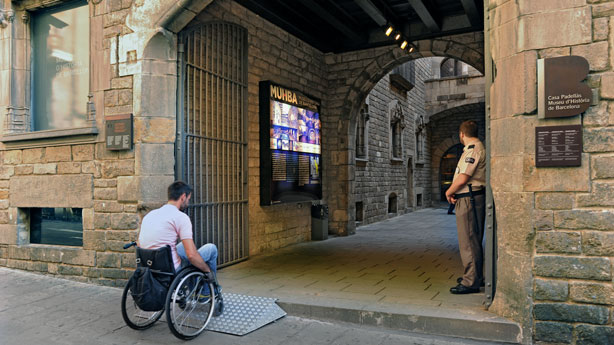 Beneath the Gothic Quarter's landmark square in Barcelona lies an impressive archaeological site, which offers visitors a glimpse of what the Roman colony of Barcino was like.
Apart from 4,000 m2 of archaeological remains below the square, the monumental ensemble comprises the 11th-century Palau Comtal – the Count's Palace – later to become the Palau Reial Major – the residence of the kings of Catalonia and Aragon –, highlights of which include the Saló del Tinell, or Great Hall, and the 14th-century Chapel of Santa Àgata. The Watchtower of King Martí was added in the 16th century. The Casa Padellàs, a Gothic Renaissance palazzo which was moved to the Plaça del Rei at the beginning of the 20th century, completes the architectural ensemble.
The museum collections mainly comprise objects taken from archaeological digs and feature such diverse materials and objects as ceramics, stone, epigraphs, glass, silver and gold, marble and stone sculptures, architectural elements, organic materials, coins, etc... spanning the Neolithic period to the late Middle Ages. Highlights include Roman busts, most of them from archaeological digs around the Roman walls; Roman and Hebrew inscriptions and ceramics (plates, bowls, oil bottles, jugs, water bowls, drinking vessels…). The museum also has a varied collection of objects from other sources.

Back to index
General details
Address:
Plaça del Rei, s/n (08002). Barcelona
Phone:
932 562 100
Web site:
www.museuhistoria.bcn.cat
Opening time:
Tuesday to Saturday, from 10am to 7pm. Sunday, from 10am to 8pm. | Closed: January 1st, May 1st, June 24th, December 25th.
Back to index
Accessibility details
Most of the museum is accessible to wheelchair users.
Visually or hearing-impaired visitors can request a guided tour, two or three working days in advance: Tel: 932 562 122 (Monday-Thursday, 10am-2pm and 4pm-7pm. Friday, 10am-2pm)
reservesmuhba@bcn.cat
There are audioguides for adults and children which are adapted for hearing-aid users.
Admission is free for disabled visitors, the over 65s and holders of the Targeta Rosa (a transport card for the over 60s and people with disability levels of 33% or more, which also provides free admission and discounts at some museums and attractions. To obtain the card you must be on the Barcelona electoral register).

Visually impaired visitors can also touch some of the exhibits on display outside the cabinets, such as some busts and stone plaques bearing inscriptions.



The audioguides can be used with hearing aids (through the induction loop system).
FM wireless equipment is available for guided tours. This service must be requested in advance by phone, fax or e-mail.
The museum provides Sign-Language interpretation for all its activities. This service must be requested in advance by phone, fax or e-mail.



All the entrances to the Museu d'Història de Barcelona are fitted with ramps and there is a lift at the exit to overcome the change in level in the antechamber of the Great Hall, the Saló del Tinell.

There are spacious lifts providing access to the permanent and temporary exhibitions. Only one area of the underground archaeological site is inaccessible to wheelchair users, due to the steps. However, proportionally this is only a small part of the route.

The underground site is accessed by a series of perforated-metal walkways. There is a platform lift to one of the galleries.

The building has adapted toilets.

The museum has wheelchairs that can be loaned to visitors.
Last update: 10/12/2019
Back to index
Booking
Call Center
Service providing personalized tourist information about Barcelona in several languages, by phone, fax and e-mail. We'll be glad to help you to book and buy tickets for tours, shows or other.
Phone: (34) 932 853 832, Monday to Friday from 8 am to 8 pm
Fax: (34) 932 853 831
E-mail:
infoaccess@barcelonaturisme.com
Purchase on-line.
BCN Shop
: Virtual shop run by Turisme de Barcelona where you can purchase tourist products and services.
Back to index
Send your comment about this information (will not be published)
Back to index