Chocolate Museum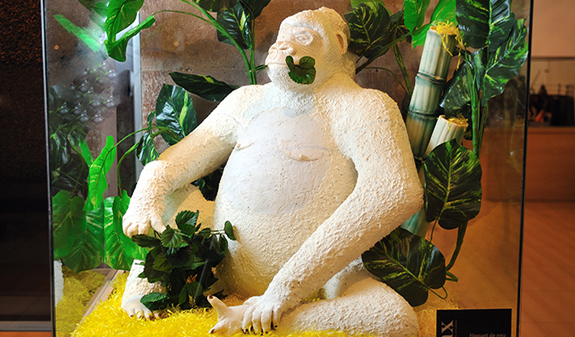 The Museu de la Xocolata was set up in the year 2000 as an initiative of Barcelona's Confectioners' Guild, and is housed in a building of great historic importance, the former Convent of Sant Agustí in Barcelona.
The Museu de la Xocolata pays tribute to the culture of chocolate in Barcelona and Catalonia. Its 600 m2 of gallery space will take you on a journey through the origins of chocolate, its arrival in Europe and spread throughout the world as an almost-mythical, magical product with a great symbolic, cultural, economic and nutritional value that is part of our collective imagination.
The aroma of chocolate will waft through the museum from the entrance to the Bean to Bar, the museum's artisan chocolate shop.
The museum offers its visitors a wide range of activities and workshops to explore the culture and secrets of chocolate. From children's and family workshops to tastings and pairings and even birthday parties for tiny tots. All of this in the convent of Sant Agustí: a unique place, steeped in history.

Back to index
General details
Address:
Carrer del Comerç, 36 - Antic Convent de Sant Agustí (08003). Barcelona
Phone:
932 687 878
Web site:
www.museuxocolata.cat
Opening time:
Tuesday to Saturday, from 10am to 7pm. Sunday and public holidays, from 10am to 3pm. | Closed: January 1st and 6th, May 1st, June 24th, August 15th, September 11th, December 5th, 6th, 25th and 26th.
Back to index
Accessibility details
The museum is fully adapted for wheelchair users and provides activities and tours adapted to the needs of visually impaired visitors.
In addition to the guided tours, the museum offers chocolate tastings and chocolate figure-making workshops, which are suited to all kinds of visitors.

Tactile materials, such as cocoa beans in their different stages, tools, etc., are used during the pre-booked guided tours for schools, groups or individuals.



Although the museum is suitable for deaf people because the exhibition layout is easy to understand without any special devices, it is important to point out that the museum does not offer tours or activities in sign languages. The many audiovisual displays are not subtitled.

The museum premises, including the café, are fully accessible.

The accessible entrance is on Carrer Princesa, not via the main entrance on Carrer Comerç. This door is open from Monday to Friday, but at weekends you will have to notify a member of staff to open it.

The museum has adapted toilets.

Last update: 18/01/2016
Back to index
Booking
Call Center
Service providing personalized tourist information about Barcelona in several languages, by phone, fax and e-mail. We'll be glad to help you to book and buy tickets for tours, shows or other.
Phone: (34) 932 853 832, Monday to Friday from 8 am to 8 pm
Fax: (34) 932 853 831
E-mail:
infoaccess@barcelonaturisme.com
Purchase on-line.
BCN Shop
: Virtual shop run by Turisme de Barcelona where you can purchase tourist products and services.
Back to index
Send your comment about this information (will not be published)
Back to index