Olympic and Sport Museum Joan A. Samaranch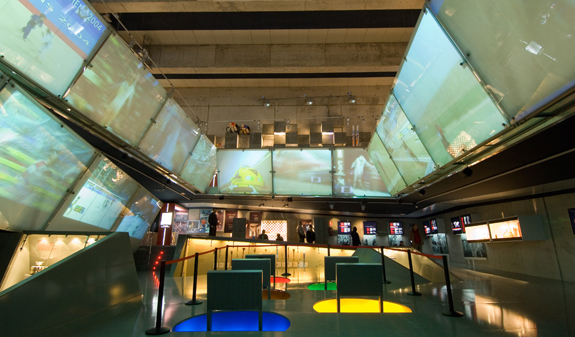 Barcelona has become the first major European city with its own Olympics museum, the Museu Olímpic i de l'Esport. The museum is located on Montjuïc hill, and offers a unique experience of the Olympic movement and sport. the city's passion to sports reached its pinnacle with 1992 Barcelona's Olympics.

This innovative museum provides its visitors with an overview of the different sport disciplines that exist today, using state-of-the art technology and interactive exhibitions, as well as multimedia installations.
New technologies play an important role in the museum's content and exhibitions, and the vast potential of its interactive displays means visitors can experience sport as never before. Using its simulators, they can run against Carl Lewis, see how Mark Spitz used to swim, improve their aerodynamics on a bicycle and compare the actual weight that weightlifting champions can actually lift. A thrilling sport experience.
Visitors can also see a permanent exhibition commemorating Olympic cities, from Barcelona 1992 to London 2012, and the first televised Olympic Games, compare the shoes worn by sporting greats such as Michael Jordan, Pau Gasol and Roberto Dueñas, discover the Samaranch Collection, and enjoy live sport.

Back to index
General details
Address:
Avinguda de l'Estadi, 60 (08038). Barcelona
Phone:
932 925 379
Web site:
www.museuolimpicbcn.cat
Opening time:
October - March: Tuesday to Saturday, from 10am to 6pm. Sunday and public holidays, from 10am to 2.30pm. | April - October: Tuesday to Saturday, from 10am to 7pm. Sunday and public holidays, from 10am to 2.30pm. | Closed: January 1st, May 1st, December 25th and 26th.
Back to index
Accessibility details
This museum has no architectural barriers. The building is wheelchair accessible.
Adapted public transport: Bus or Metro (Line 3) station Paral•lel and correspondence with the Funicular de Montjuïc.
Reduced rate for disabled card holders.
Assistance dogs and guide dogs are welcome.
Mainstream audioguide available, not included in the entrance fee. Languages: Spanish, Catalan, English, French, German and Chineese.
Kids audioguide also available. Languages: Spanish and Catalan.
Guided tours & educational activities for visitors with special needs can be arranged (prior registration necessary).
If you have any questions concerning accessibility, please contact tel. 934 260 660 or E-mail
info@fbolimpica.es

Subtitling of audiovisuals containing audio information.



Main entrance:
The entrance is completely flat and accessible.
There are two doors (each one is 160 cm wide). They are glass and operate manually. Hay dos puertas de acceso. Cada una mide 160 cm de ancho. Son de apertura manual, de vidrio y de doble hoja.

Lifts:
The lift door is automatic and measures 90 cm. Interior dimensions: 95 cm wide and 140 cm deep. Holds 8 people. The button panels, in relief and braille, are placed at a height of 115 cm.

Reception:
The reception desk is 115 cm high.

Mobility inside the museum:
Much of the tour inside the museum goes along a continuous light gradient ramp.
The display elements are presented along the ramp into small cubicles, but enough for wheelchair access space. The flooring is cement.
The railing of the ramp is wide and allows it to rest along the way.
At the end of the ramp there is an area with elements and interactive games.
A wheelchair is on loan. Ask at the reception desk.

Toilets :
There is an adapted toilet on the ground floor.
The door (80 cm wide) is sliding. There is a fold-down grab bar and a fixed grab bar in the cubicle.
Washbasin height: 90 cm. Automatic taps.

Restaurant and cafeteria:
The cafeteria is on the first floor, right near the lift. Entrance is flat and accessible. Full table service.
Coeliac menus can be arranged upon demand.


Last update: 28/11/2019
Back to index
Booking
Call Center
Service providing personalized tourist information about Barcelona in several languages, by phone, fax and e-mail. We'll be glad to help you to book and buy tickets for tours, shows or other.
Phone: (34) 932 853 832, Monday to Friday from 8 am to 8 pm
Fax: (34) 932 853 831
E-mail:
infoaccess@barcelonaturisme.com
Purchase on-line.
BCN Shop
: Virtual shop run by Turisme de Barcelona where you can purchase tourist products and services.
Back to index
Send your comment about this information (will not be published)
Back to index