Museu Frederic Marès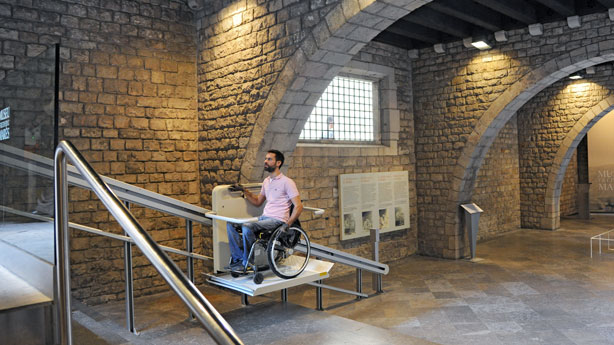 The Museu Frederic Marès is located in the heart of Barcelona's Gothic Quarter, in part of the former royal palace which was once home to the Counts of Barcelona. The museum includes an extensive and valuable collection of art works and objects which Frederic Marès collected throughout his life.
The collection is divided into two main sections: the sculpture collection and a collection of everyday objects and collectors' items, called the Gabinet del Coleccionista.
The sculpture collection features works of art from around Spain spanning the pre-Roman period to the 19th century, and includes important exhibits from the Middle Ages and polychrome religious carvings. Spanish sculptures from the Renaissance and baroque periods are also widely represented and there are examples of works from the main Spanish schools of sculpture, from the medieval period to modern times.
The "Gabinet del Col·leccionista" showcases a series of handcrafted objects that bear witness to the everyday lives of our ancestors from the 15th to 19th centuries and is divided into three galleries.
The "Sala Femenina" is one of the galleries that best represents the museum Frederic Marès's collection and bears witness to women's lives during the romantic era. It contains a collection of fans, combs, jewellery, clothing and other fashion accessories.
The "Sala de les Diversions", features toy theatres, automata, toys and retains all the charm and evocative power of the entertainments of yore.
The "Sala del Fumador" features a wide variety of pipes, an item that attained great levels of sophistication in terms of the quality of its materials and unusual shapes.
Back to index
General details
Address:
Plaça de Sant Iu, 5-6 (08002). Barcelona
Phone:
932 563 500
Web site:
www.museumares.bcn.cat
Opening time:
Tuesday to Saturday, from 10am to 7pm. Sunday and public holidays, from 11am to 8pm. | Closed: January 1st, May 1st, June 24th and December 25th.
Back to index
Accessibility details
This museum is partially accessible for wheelchair visitors.

Access to the courtyard through a platform lift for wheelchairs.

Lift from level 0 to 2.

The Sculpture Room 12 (level -1) and Room 17 Cabinet of the collector (P3) are not accessible to wheelchair users.

Adapted toilets on levels 0 and 1.

The Museum offers wheelchairs on loan.

Last update: 10/12/2019
Back to index
Booking
Call Center
Service providing personalized tourist information about Barcelona in several languages, by phone, fax and e-mail. We'll be glad to help you to book and buy tickets for tours, shows or other.
Phone: (34) 932 853 832, Monday to Friday from 8 am to 8 pm
Fax: (34) 932 853 831
E-mail:
infoaccess@barcelonaturisme.com
Purchase on-line.
BCN Shop
: Virtual shop run by Turisme de Barcelona where you can purchase tourist products and services.
Back to index
Send your comment about this information (will not be published)
Back to index