At the BCNSHOP, you'll find...
See discounted products
Guided tours
Barcelona is many Barcelonas. You can sign up for walking tours as well as bike, moped and even helicopter tours. Amaze yourself!

At your own pace
Do you like to set your own pace? This section features all the products that will help you make the best use of your time in Barcelona.

Unique spaces
These are Barcelona's landmark areas. Buy your tickets at the places of interest that best represent the diversity and colour of Barcelona.

Museums, leisure and gastronomy
Art, history, archaeology, science… Barcelona's museums are true centres of culture and knowledge. Choose ones and buy its tickets.

Show's tickets
Barcelona is the city that never stops: flamenco, sport, music… Immerse yourself in Barcelona's dynamic lifestyle by buying your tickets here!

Near Barcelona
Make the most of your visit to Barcelona and get away to nearby places that are well worth a detour. Get tours and buy tickets here!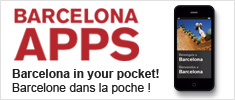 Products at a discount
10%

10%

10%

50%

-4€

5%

5%

10%

5%