Nowhere else in Barcelona better encapsulates post-modernity than Diagonal Mar and the Forum in the Sant Martí district. Set out along the final stretch of the Avinguda Diagonal, this neighbourhood originated from the major redevelopment of the industrial district of Poblenou and merges, in its final section, with the Forum.
Towards the end of the 20th century, Barcelona was concentrating its efforts on the redevelopment of the Poblenou district. This project led to the creation of a new space dedicated to the knowledge industries and new technologies, which was named 22@. The main section of the neighbourhood is the final stretch of the Avinguda Diagonal which opened in 1999. The area still retains some of the blue-collar housing blocks from the 1960s and 1970s, which have been integrated into a new neighbourhood of modern buildings, hotels and urban spaces.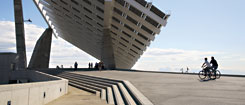 A little further along, you'll find the Parc del Fòrum, the great seafront esplanade which hosted the Universal Forum of Cultures, an event that took place in Barcelona in 2004. On the way, you can visit the modern Parc de Diagonal Mar, designed by Enric Miralles.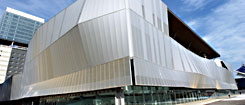 On the waterfront, a visit to the Forum site tells you about Barcelona's most modern architecture. Set between new skyscrapers and 5-star hotels, is the Barcelona International Convention Centre, designed by José Luís Mateo, and the landmark triangular Forum Building, an ingenious work by the architects Jacques Herzog and Pierre de Meuron.
Diagonal Mar and Forum
Other districts
Here you'll find other districts you might be interested in

Barcelona Hotels
Families, couples, globetrotters and businesspeople… You'll feel right at home at any of Barcelona's 300 hotels, whatever your budget or the reason for your visit.

Barcelona Restaurants
The Catalan capital is also a culinary capital: prestigious chefs serve up our traditional cuisine and the flavours from around the world. Can you decide on one?

Where to shop
You'll find the magic of shopping as you experience the city. Discover a thrilling form of sightseeing: walking from shop to shop.
Tourist Material
Tourist brochures to discover the places of interest, the museums, the cultural activities and the best suggestions for visiting the city.