It's impossible to get bored in Barcelona: the best concerts, exhibitions and events related to art, culture and leisure await you, week after week. Here are some of the main ones. Don't miss anything this constantly moving city has to offer.
Highlights


1 of 19

Marlango
Music pop, jazz, folk, flamenco...
BARTS Barcelona Arts on Stage
27/11/2014
Stories full of lyricism

The Misanthrope by Molière
Theatre and shows
Teatre Lliure
From 25/11/2014 to 7/12/2014
The man who questions what is honesty.

The Ninth Symphony – Memorial Pau Casals
Classical music and Opera
Gran Teatre del Liceu
From 27/11/2014 to 28/11/2014
Ode to Joy

The Shopping Night Barcelona
Christmas Time
Passeig de Gràcia
4/12/2014
The night when shops are open
Sporting agenda

ISU Grand Prix Final Patinatge Artístic
Sports
Centre de Convencions Internacional de Barcelona(CCIB)
11/12/2014
To 14/12/2014

Superprestigio Dirt Track
Sports
Palau Sant Jordi
13/12/2014

Family activities

From magic to the moon
Film
Caixaforum
8/11/2014
To 30/11/2014

Children's activities at Caixaforum.
Family activities
Poble Espanyol de Barcelona
1/10/2014
To 31/12/2016

The agenda day by day
Here you'll find other events you might be interested
Tickets
Barcelona hosts some of the best sporting and cultural events every day. Buy your tickets here and make the most of your time.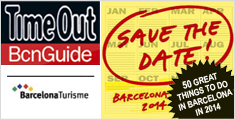 This autumn in Barcelona
In autumn, Barcelona reveals its cultural activities and invites you to take a stroll, discover its shops and gastronomy... Here are a few suggestions:
Take a stroll through the parks and the beaches, discover new exhibitions, go to a concert or take a short trip out of town.
Barcelona welcomes you to...