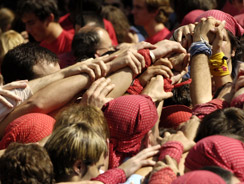 The Catalan Festival on the Avinguda de la Catedral
Popular festivals | Family activities
18/5/2013 To 31/8/2013

If you're lucky enough to visit Barcelona when it is celebrating one of its traditional festivals (La Mercè, Santa Eulàlia, Corpus or any of its neighbourhood festivities) you'll enjoy a city that dazzles and is proud of its diverse and unique traditional culture: you'll thrill to the spectacle of the human towers, the castells; listen to the warm sound of the traditional woodwind instrument, the tenora; see the stately circle dance, the sardana; enjoy the solemn procession of the giants, or gegants; and experience the passion for fire and see fantastic mythical beasts. These unique sensations will always be part of your memories of the Catalan capital. Now you don't have to wait for the festivals to enjoy these experiences and get to know us better. Over 9 Saturdays in spring and summer you'll be able to experience La Festa Catalana (The Catalan Festival), with sardanes, castells, gegants, mythical beasts, stick dancers, etc.
Opening time: 7.30 pm.

May: 18 and 25
June: 16 and 29
July: 20 and 27
August: 10, 17 and 31.

The agenda day by day
Here you'll find other events you might be interested